P&O cruise forced to turn around after woman smacks man with wine bottle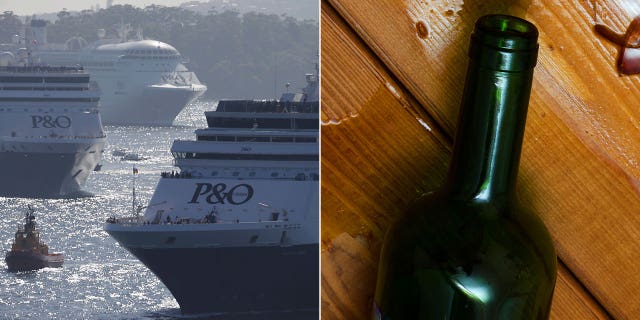 A P&O cruise liner was forced to head back to Sydney after a fight broke out between passengers waiting in line for the lavatory, according to police in New South Wales.
The fight allegedly broke out between a group of men celebrating a bachelor party on the P&O's Pacific Explorer on Saturday night, during which one man's 37-year old female friend allegedly struck a 21-year-old man over the head with an empty wine bottle, the Australian Broadcasting Corporation reported.
CRUISE ARRIVES IN SAN DIEGO WITH DOZENS SUFFERING FROM POSSIBLE NOROVIRUS
The brawl was broken up by security, and the 21-year-old man was treated for a laceration on his head, ABC reports. The entire group was detained by the ship's crew.
P&O further revealed in a statement that New South Wales Police Marine Area Command responded to a call for help on Sunday morning, meeting the Pacific Explorer in the Sydney harbor and removing the group from the liner.
"This is in line with our strict policy of zero tolerance of excessive behavior that affects the safety, comfort and enjoyment of other guests. While these occurrences are rare, we have no hesitation in taking strong action when necessary to adhere to this policy," a representative for the cruise line stated.
WATCH: COAST GUARD RESCUES TWO CARNIVAL CRUISE PASSENGERS
The woman, identified as Tatiana Baladina, has been charged with reckless wounding and affray, News.com.au reported. She has since been released on bail and will appear in court on March 9.
The six men were released without being charged.
The Pacific Explorer was on a three-day round-trip cruise from Sydney, News.com.au reported. It will return on Monday to dock.
P&O further stated that the group "will no longer be welcome to travel with P&O Cruises or any of its associated brands" in the wake of the incident.
FOLLOW US ON FACEBOOK FOR MORE FOX LIFESTYLE NEWS
P&O Cruises is operated by the Carnival Corporation & PLC, which also operates the Carnival Cruise Line, the Cunard Line, and Princess Cruises, among others.