Plane hits man in the head during Navy exercise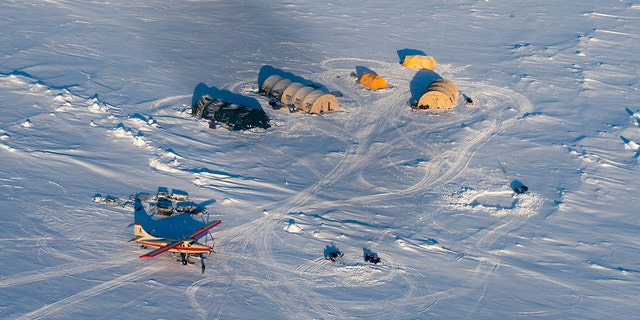 The National Transportation Safety Board is investigating a March 20 accident in Deadhorse, Alaska, in which a U.S. Navy aircraft struck a photographer in the head during takeoff.
KTUU reported on Tuesday that an unnamed Arctic Submarine Laboratory employee standing near the end of the runway was hit in the head by the plane taking off at U.S. Navy Ice Camp SKATE from sea ice on the Beaufort Sea , operated by private air charter company Bald Mountain Air Service.
Though the two pilots and three passengers aboard the plane were not injured, the man photographing the plane from the ice could have died.
AIRASIA STAFF SHOWN HUGGING AND KISSING SUITCASES AFTER CAUGHT MISHANDLING LUGGAGE
"The pedestrian sustained serious injuries, and the airplane sustained substantial damage. The man was medevacked to Anchorage for treatment of "serious head and neck injuries because of the collision," the NTSB confirmed. Further, one of the pilots confirmed to NTSB that the flight's intent was to "provide ongoing logistical support of ICEX 2018, which involves, in part, U.S. Navy and U.K Royal Navy submarines operating beneath the frozen Arctic Ocean during a 5-week exercise."
According to the victim, he and the pilots had all "agreed that he would position himself alongside the airstrip to get a photo of the airplane's departure."
'AGGRESSIVE' PASSENGER MAY HAVE TO PAY PLANE'S FUEL BILL AFTER CAUSING EMERGENCY LANDING
Takeoff, however, didn't go so smoothly.
The pilots claim that during takeoff roll, the aircraft began to veer slightly to the left. As for the victim, he alleges that he was standing behind a snow berm, or bank, between three and four feet tall, and only recalls the sight of the airplane's left wing getting lower to the ground before waking up in a medical helicopter.
FOLLOW US ON FACEBOOK FOR MORE FOX LIFESTYLE NEWS
After hearing a "loud thump," the pilots made an emergency landing after seeing the man lying close to a snow berm on the left side of the air strip.
The NTSB confirmed to KTUU that an investigating is ongoing, as a download for the cockpit's voice recorder pends.