Passengers claim Spirit Airlines left them stranded at LAX on 'trip from hell'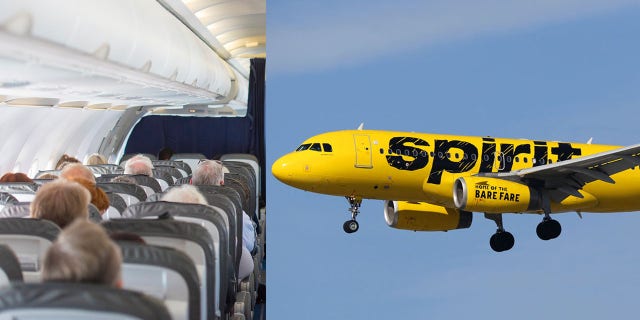 What should have been an easy hourlong flight to Las Vegas for a family of four turned to a "trip from hell" when their Spirit Airlines plane diverted and they were left stranded at LAX for nearly 24 hours.
On July 9, Spirit Flight 466 departed Oakland, Calif. as scheduled around 8:15 a.m., and was set to touch down in Sin City an hour later, KTLA reports. Passenger Courtney Adkins, traveling with her children, ages 2 1/2 and 4, was frustrated when the aircraft unexpectedly diverted halfway through the trip and headed toward Los Angeles due to bad weather.
It is not clear at this time what exactly the bad weather entailed.
UNITED AIRLINES CEILING PANEL FALLS ON PASSENGER WHEN PLANE LANDS IN WASHINGTON
Adkins told the outlet that she expected passengers to simply deplane and board another flight, but the group was instead left "stuck on the tarmac" for two hours. When finally released, the Spirit passengers learned that their flight had been canceled, leaving everyone to "fend for themselves" inside the terminal, KTLA states.
Meanwhile, Adkins says that she and her family were forced to spend the evening sleeping on the floor while they waited to catch their rescheduled flight to Las Vegas, which departed at 6 a.m. on July 10.
"If I could talk to them, I would definitely tell them they need to have a training course for their employees on events that are unexpected, on how to properly communicate with their guests," Adkins said.
'HORNY' PASSENGER ON UNITED FLIGHT ALLEGEDLY MOLESTED WOMAN SITTING NEXT TO HIM, LAWSUIT CLAIMS
Representatives for Spirit Airlines returned Fox News' request for comment on the story with the following statements, which shed a different light on the alleged account.
"Flight 466 got to the gate just before midnight. By the time our Guests were deplaned, and our agents spent time rebooking them, it was much later," a representative said. "Most of our Guests were set to board their replacement flight at 5 a.m. It was not prudent to provide hotel rooms for only a couple hours, especially due to the increased TSA processing time expected because of the more than 50 unplanned diversions to LA Monday night."
"Certain guests were provided a hotel room based on personal reasons or the decision not to continue to Las Vegas," they continued.
FOLLOW US ON FACEBOOK FOR MORE FOX LIFESTYLE NEWS
"Spirit Airlines flight 466 was one of many that were forced to divert to LAX because of dangerous weather conditions in Las Vegas. Because these diversions are unplanned, there is often a delay in gate availability," they added.
"We apologize to our Guests for the inconvenience and frustration a diversion like this causes, but the safety of our Guests and Crew is paramount. We worked with Guests to reaccommodate them and appreciate their patience."