Passenger claims Southwest Airlines lost her mother's prosthetic foot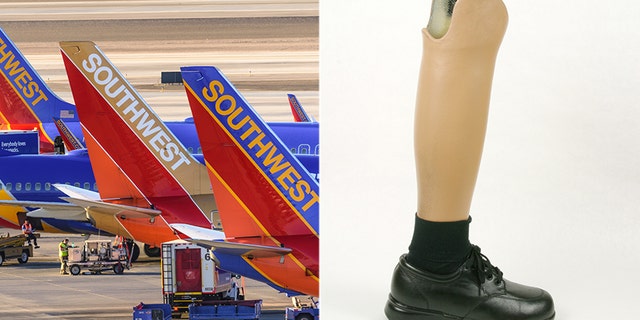 A woman is claiming Southwest Airlines lost her luggage, which held her 97-year-old mother's new prosthetic foot.
Margaret Crawford was traveling to Belize from Florida to visit her mother on March 30, WFLA reported. Crawford paid $75 to check her bag at Tampa International Airport, and when she landed, she says her luggage did not arrive.
SOUTHWEST AIRLINES PASSENGERS WEREN'T WEARING LIFESAVING OXYGEN MASKS PROPERLY
Crawford told WFLA she was going to Belize to bring her mother the new foot, since her mom is currently using an old prosthesis, which is held together by duct tape.
"My fear is that when she is walking in the [one] duct-taped to a shoe that she can fall, and if she falls at 97, that is like saying [it's] the end" she said to WFLA.
During her stay in Belize, Crawford said she repeatedly contacted the airline and was told they could not locate her bag with the foot.
"I wanted to witness my mom putting on that shoe, I wanted to dance with her, just to hold her and see that excitement and listen to her laughter," Crawford told WFLA.
Crawford was not reunited with her bag until two weeks later, when she was back in the United States. The bag was reportedly tracked down in Atlanta and returned to Crawford in Florida, though she says she has no way of getting back to Belize to deliver the foot.
"I feel like they robbed me and it's the principle. In today's technology, they should not lose luggage for two weeks," she said to WFLA.
"I made a lot of sacrifice to make that trip, and I am expecting Southwest to do the right thing — for them to get me back there with my luggage so I can see my mom with her foot — and I would like it while she is still alive," she added.
FOLLOW US ON FACEBOOK FOR MORE FOX LIFESTYLE NEWS
Crawford said Southwest offered to refund half of her ticket – which cost her more than $500 – but would not give her a full refund.
In a statement to Fox News, the airline says it has apologized to Crawford, and confirmed that her original ticket price has since been refunded. Southwest says it also provided Crawford with additional compensation to cover her unforseen fees, as well as a travel voucher equal to her original fare to Belize.
"Our Baggage Service Office has been working directly with Ms. Crawford to resolve this situation and we hope to welcome her back onboard soon," the airline stated.