Norwegian cruise ship filmed crashing into mooring points in Puerto Rico: 'Epic fail'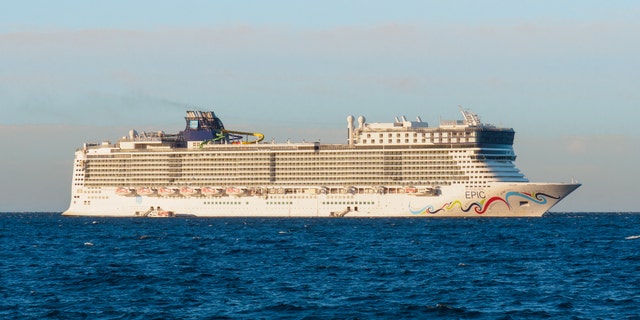 Norwegian Cruise Line says "prevailing winds" caused a collision between the Norwegian Epic and a pair of mooring points at a pier in Puerto Rico on Tuesday.
The ship, which left Orlando for a weeklong cruise for the Eastern Caribbean, was not scheduled to dock in Puerto Rico but diverted to San Juan possibly due to a mechanical problem, The Miami Herald reported, citing a cruise-ship message board.
CHURCH MINISTER CALLS OUT CARNIVAL CRUISES FOR PLAYING R. KELLY DESPITE OBJECTIONS
Footage of the collision was captured by a passenger of another vessel in San Juan, showing the cruise liner make contact with the moorings secured there.
"That's gonna hit. That's gonna hit!" the passenger recording the video is heard saying. The clip then shows the Epic scraping against one of the mooring points, sending it underwater.
A second mooring point is struck a moment later, it too being pulled underwater in the ship's wake.
The passenger who recorded the footage also called the incident an #EpicFail in the caption.
VIRGIN VOYAGES RELEASES 'ADULTS ONLY' CRUISE ITINERARY
Additional photos shared to social media appear to show large scrapes across the hull of the ship. Users also suggested that the partial loss of power, and the possible loss of engines, were causes for the ship being diverted to Puerto Rico in the first place.
"Prevailing winds caused the ship to veer towards the pier, damaging two mooring points at Pier 3 East," a spokesperson for cruise line confirmed to the Miami Herald.
FOLLOW US ON FACEBOOK FOR MORE FOX LIFESTYLE NEWS
"No injuries have been reported and guests are currently disembarking the ship as previously scheduled. We are working closely with local authorities to assess the damage."