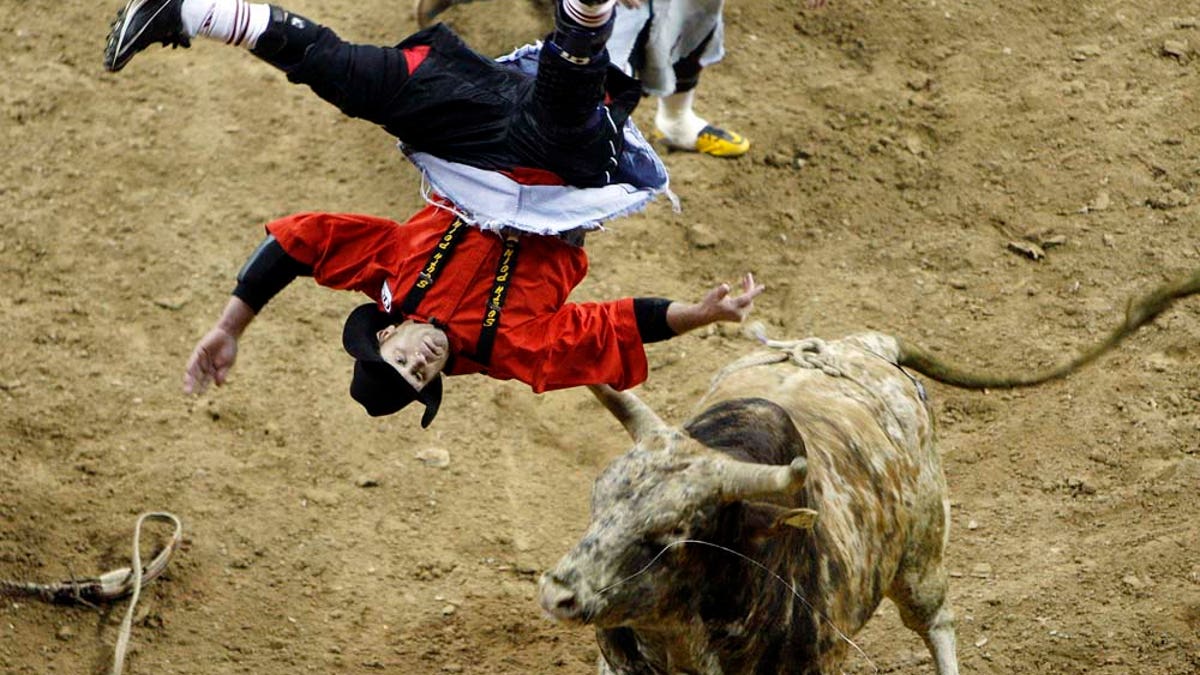 Even city slickers can enjoy a rodeo; it is, after all, a sporting event. With a lot of beer. And grilled meat. And a lack of giant foam fingers and face-painting (not a bad thing, I might add).

In all seriousness, rodeos are great family fare. There are usually parades and drill team exhibitions, down-to-earth people, great camaraderie, and you can watch some truly amazing human, equine, and bovine athletes perform in independent and team events. At day's end, you can always count on a big barbecue, live music, and a dance. The below rodeos are all located in places of great historic interest if you love the Old West or Americana. Git boot-scootin'.

1. Calgary Stampede
It may be surprising to learn that Canada has a cowboy culture, but Alberta does, and is home to this world-famous event, which is an integral part of the community. Critter lovers should note that the Stampede places extreme emphasis on animal welfare, which you can read about here (FYI, the PRCA (Professional Rodeo Cowboys Association) also has strict animal welfare regulations in place, so contrary to belief, livestock are not being tortured for the sake of entertainment). Events ranging from steer wrestling and women's barrel racing to junior steer riding will be happening July eighth through the 17th.

[Photo credit: bronc, Flicker user Bill Gracey;
Located in the heart of Yellowstone Country at the foot of the Bighorn Mountains, Sheridan has no shortage of pastoral pleasures to go with its Western heritage. Rodeo Week--July eighth through the 17th--kicks off with a parade, and night rodeos are held the 13-16th. Part of the Wrangler Million Dollar Tour, Sheridan WYO also features events like the Indian Relay Races (Those of you who are offended by the non-PC-ness of the name...remember we are not in Berkeley, and there's a $25,000 payout prize), and a public Boot Kick-off event featuring live music, food vendors, and more.

Days of '76 Rodeo
Held in one of the Old West's most historic and notorious towns, this Deadwood, South Dakota event has been named Best PRCA Small Outdoor Rodeo four times, as well as PRCA Midsize Rodeo of the Year since 2004. This, the 89th year, runs from July 26-30th, and features two parades and lots of local Native American culture. The entire city of Deadwood is a national historic landmark located in the Black Hills Territory, so be sure to plan on an extra day or two for exploring.

Pendleton Roundup
Eastern Oregon is at the heart of the state's cowboy country, and Pendleton is one of the ten largest rodeos in the world. Have a last-days-of-summer trip September 14-17th, when the weather is hot and sunny (it does happen in the Pacific Northwest, really). Bareback and saddle bronc riding, team roping, bull riding, Indian relay races, wild cow milking, children's rodeo, and parade: it's all here. Trivia: Pendleton is one of the first rodeos to have women officially compete. In 1914, Bertha Blanchett came within 12 points of winning the All-Around title.