Newark Airport officers arrested for hazing employees, pinning them to 'rape table'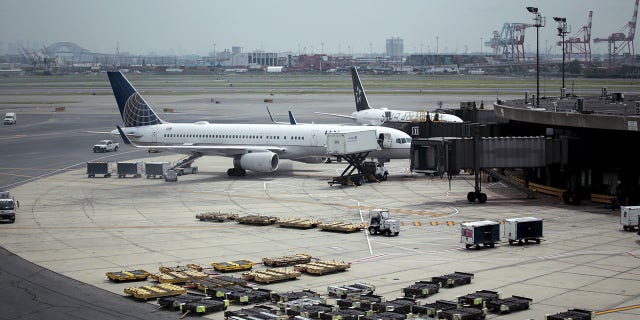 Three Customs and Border Protection officers working out of Newark Liberty International Airport have been arrested following an investigation into a series of hazing incidents that took place in their Terminal C offices.
Tito Catota, Parmenio Perez and Michael Papagni have been charged with "forcibly assaulting, impeding, intimidating and interfering with" two of their new male co-workers on the Passenger Enforcement Rover Team (PERT), reports Channel 4 I-Team.
According to the I-Team's earlier report on the hazing incidents, Officers Catota, Perez and Papagni stand accused of abusing certain PERT employees, and threatening to place them on an office table — which they dubbed the "rape table" — where they would be made to endure simulated sex acts.
DELTA AIRLINES PAYS WOMAN $4,000 TO GIVE UP HER SEAT
"The defendants, who were members of a unit responsible for identifying dangerous contraband and threats to national security, allegedly subjected their own colleagues to senseless physical abuse, all while on duty at Newark Liberty International Airport," said U.S. Attorney William Fitzpatrick in a statement posted to the Department of Justice's website on Wednesday.
"This behavior would be abhorrent in any environment, especially one serving a critical law enforcement function. The hard working men and women who protect our borders deserve better."
The first victim originally began working with PERT in October 2016, and claims that he was threatened with the "rape table" less than two weeks into his tenure. Later, in January, the victim says he and a colleague were working to retrieve and forward a document when Papagni told him to hurry up lest Papagni teach him "what this team is about." Soon, the victim says the lights in the office went out, and Papagni, Catota and another CBP officer held him down while Perez sat atop him and grinded against his genitals through his clothing. The victim was unable to push Perez off him, but eventually got free when the CBP officers backed off and let him leave.
A second victim claims he went to the PERT office in Terminal C to speak with CBP officers in November 2016 when one of them locked the door behind him. Catota, Papani and Perez then held him down on the office table while one moved his genitals up and down the victim's leg. He too was unable to leave until the three officers let him up.
The Department of Homeland Security began investigating earlier this year after the victims initially issued their complaints, though the PERT division wasn't officially disbanded until May. In total, 11 CBP officers had been suspended in connection with the incidents, I-Team reports.
FOLLOW US ON FACEBOOK FOR MORE FOX LIFESTYLE NEWS
News 4 also reports that other CBP officers reported similar incidents after the initial complaints were published, including Vito Degironimo, who claimed that his fellow officers "ended up mounting me and pretty much riding me like a horse."
"I'm grabbed by other officers against my will," he added. "I don't know how much more criminal you can get."
If guilty, Catota, Perez and Papagni face a minimum potential penalty of eight years in prison and $250,000 in fines for each incident, according to the Department of Justice.