'New York Edge' observation deck to be tallest in Western Hemisphere: 'Lean out over Manhattan'
New York's latest upcoming attraction isn't for the faint of heart.
The real estate firm behind the tower at 30 Hudson Yards, set to open later this year, has revealed details of the open-air observation deck planned for the 100th floor, which is said to be the "highest manmade outdoor viewing area in the Western Hemisphere."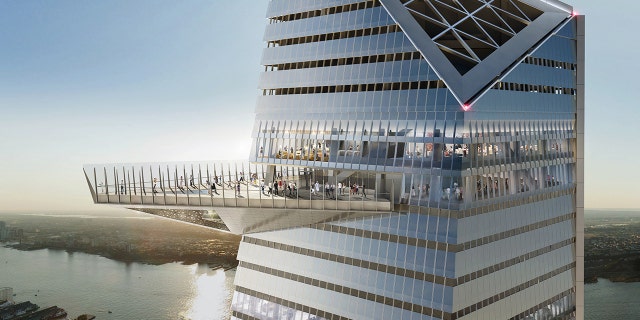 DISNEY ANNOUNCES OPENING DATE FOR 'STAR WARS: GALAXY'S EDGE'
The construction, itself compared to putting together a "jigsaw puzzle in the sky," will also feature a viewing window built into the outdoor platform, allowing guests to look straight down on the city from 1,100 feet in the air.
An "angled," 9-foot glass wall will also surround the deck, which will protrude 60 feet from the building, in order to provide "unparalleled vistas of the New York skyline."
"Go further and lean out over Manhattan, literally, on the nine-foot wall of boldly angled glass — if you dare," reads an announcement for the project, which Hudson Yards is now calling the "New York Edge."
In addition to the observation deck, the 2.6-million-square-foot building will house restaurants, a performance venue and office space, some of which has already been acquired by Warner Media.
CLICK HERE TO GET THE FOX NEWS APP
30 Hudson Yards was designed by Bill Pedersen, of Kohn Pedersen Fox Associates. It is part of the Hudson Yards real estate development, said to be the largest private real-estate development in "the history of the United States," per a press release.