New Emirates ad featuring Jennifer Aniston dissing US air travel is sparking anger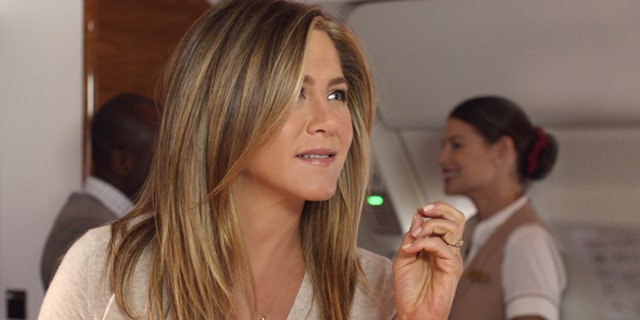 NEWYou can now listen to Fox News articles!
Emirates has enlisted America's favorite "Friends" actor to mock U.S. carriers in a new video ad that makes fun of what is pretty much the standard domestic airline travel experience.
First, Jennifer Aniston is offered a lowly bag of peanuts, then she's shocked to discover there's no shower onboard the aircraft. The flight attendants deliver the final blow when they tell Aniston that- horror of horrors—there's no aircraft bar.
Of course this is all just a dream and she soon awakens in her luxurious walnut-paneled, flat-bed seat of an Emirates superjumbo's first-class cabin, bristling from the nightmare.
Cut to Aniston chatting away with an Emirates bartender in the lavishly appointed aircraft upper-deck bar, swigging from a delicate-looking martini glass.
"Hey, is there someone we could talk to about maybe flying this around a little bit longer?" the actress says.
The U.A.E. based airline says it spent $20 million on the spot, and it will be first be screened in the U.S. before being rolled out across Europe in 30 and 60 second versions, reports Bloomberg.
Though the ad is meant to be humorous, it's struck a nerve with many YouTube users who point out that few travelers could actually afford the lavish experience depicted in the commercial. A round trip, First Class ticket from New York's John F. Kennedy to Dubai starts around $25,000.
"im glad she acknowledges her privilege. being poor is such a nightmare. ah, someday i too will take a shower in the sky," wrote Ani0227.
"GYAAAAAAAAH STOP IT PLEASE!! No more economy class! Make it stop!" wrote 113Robinho.
"yeah, only Jennifer Aniston and other rich elites can afford Premium First Class tickets with the shower - the rest sit in cattle class although A-380 economy is better than most," said Mark Byron.
But many who commented and have been lucky enough to enjoy the Emirates experience, acknowledge that it is pretty special.
"I'v [sic] flown with many airlines and I have to say Emirates really is the best!!!" says Mikael Chad.