Man tackled 13-year-old girl near TSA at Armstrong airport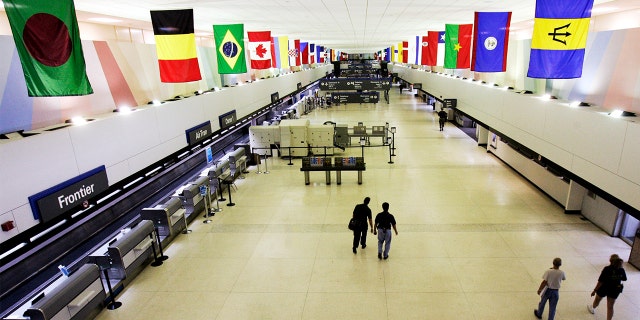 NEWYou can now listen to Fox News articles!
One 13-year-old girl was in for a fright on April 4, when a man inexplicably tackled her to the ground near security at Louis Armstrong International Airport.
Lauryn Wilson was traveling through the New Orleans terminal around 5:15 a.m. with her grandmother, Vedra Jackson, who is in a wheelchair, when the incident happened.
"I'm just walking and all of a sudden I'm on the floor and there's this man squeezing me," Wilson told 4WWL. "I thought he was going to stab me, I thought he was going to really hurt me."
"It was so scary. I've never been in a situation like that," she added.
DELTA AIR LINES HACK MAY HAVE EXPOSED 'CUSTOMER PAYMENT INFORMATION'
A Louisiana representative for the Transportation Security Administration (TSA) told Fox News that a male passenger tried to walk through a metal detector with his luggage before being stopped and instructed to place his bag on the X-ray conveyor belt. By their account, the man initially complied, then suddenly left the screening area.
"The passenger then turned again and ran past the law enforcement officers back into the screening area. The passenger pushed a young female passenger and a TSA officer to the ground," they said. "Jefferson Parish Sheriff deputies immediately subdued the male passenger at the WTMD and removed him from the checkpoint."
"TSA screening operations were halted for approximately 6 minutes," they added.
For her part, Jackson claims that things went down a little differently.
"When we pulled up, we heard this commotion. He was just yelling "No!" just screaming like he was losing it," the 58-year-old said.
HOW TO RELAX BEFORE A FLIGHT IN A MINUTE OR LESS
She further alleges that the man then threw his bags, running away from the area. Returning to the scene five minutes later, Wilson ended up on the ground.
"He tackled her, landed on her back, squeezing her arm saying "Give me a hug," Jackson said, recalling that she burst into tears because she couldn't help her granddaughter from her wheelchair.
FOLLOW US ON FACEBOOK FOR MORE FOX LIFESTYLE NEWS
"You can't trust things today. You can't take things lightly today, things happen too quickly," she mused.
4WWL reports that the accused man has been hospitalized for mental evaluation and will be arrested on battery charges upon release.