Korean Air passenger dragged off flight while shouting, resisting several police officers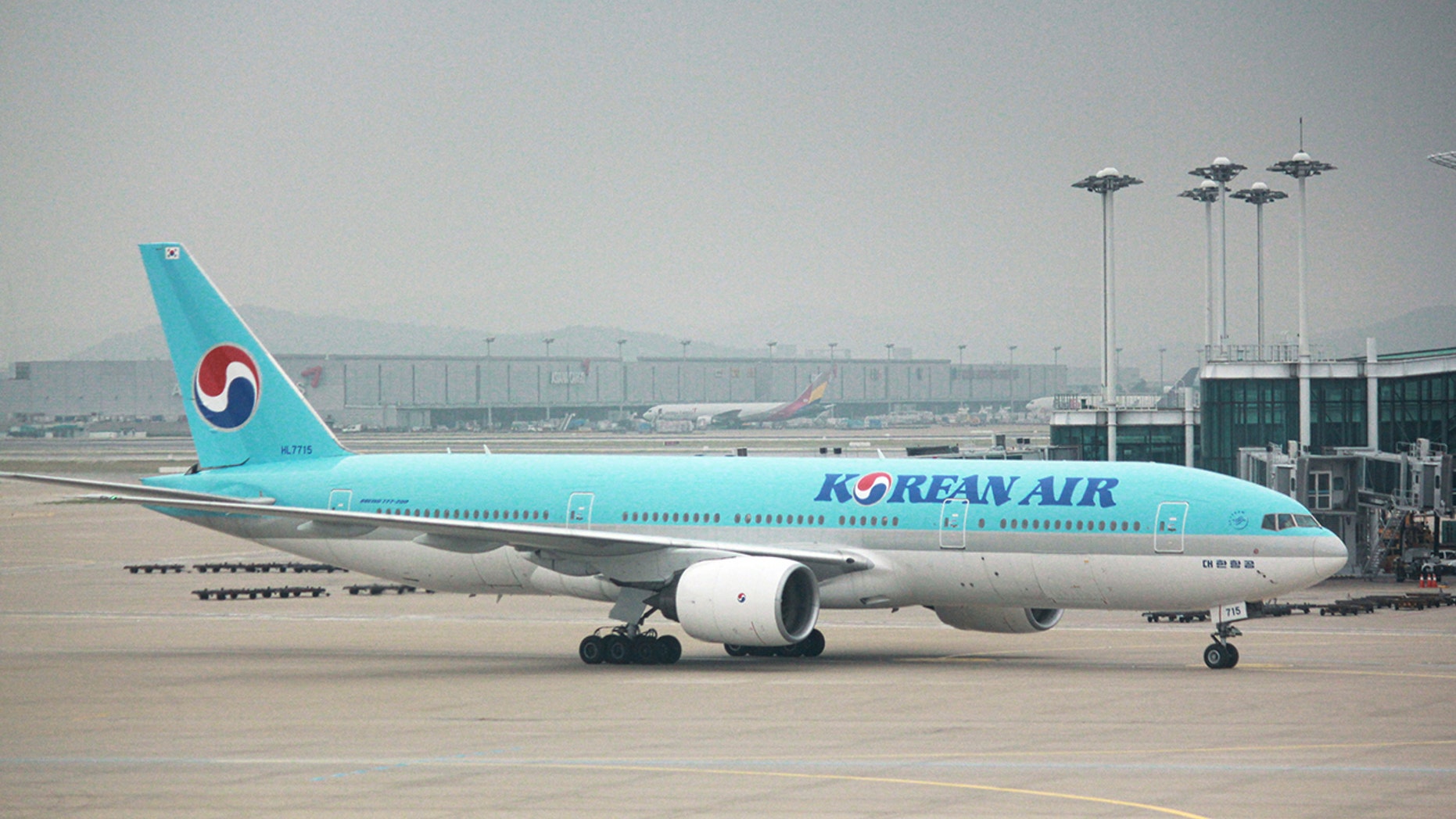 A U.S.-bound passenger was reportedly dragged off a Korean Air flight from South Korea to San Francisco on Friday, allegedly because she refused to sit in her designated economy seat.
Footage of the incident — shared to YouTube by Korea JoongAng Daily, a Korean newspaper affiliated with The New York Times — shows the woman resisting as several security officers attempt to remove her before takeoff from Incheon Airport.
A representative for Korean Air tells Fox News the women seen removing the passenger were female police officers, and not Korean Air crew members, as was previously reported.
WATCH: FRENCH RAPPERS BRAWL AT PARIS AIRPORT, GET FLIGHTS DELAYED
In the video, the passenger can also be heard chanting "U.S. Marshall" and what sounds like "Korean Air stole my passport" as the officers pull her from what looks to be a business-class seat and push her down the aisle toward the front of the aircraft. A number of passengers also begin to applaud as she's removed.
The woman then appears to fall, before she is seen being seated in a wheelchair-like conveyance by police. She's then seen holding up a peace sign and shouting "Nuclear Disarmament!" before mugging for the camera and adding, "Meanwhile at SpaceX!"
The entire ordeal reportedly began after the woman had taken a seat in business class, despite booking an economy seat, and then refused to move once she was asked to sit in her assigned seat, the San Francisco Gate reported, citing a Korean pop culture blog called AllKPop.com.
The woman, who was identified as an American by the SFGate, reportedly ended up delaying the flight by one hour and 40 minutes, the JoongAng Daily said.
FOLLOW US ON FACEBOOK FOR MORE FOX LIFESTYLE NEWS
Footage of the incident is reminiscent of a similar video shared following the United Airlines dragging incident of April 2017, during which a passenger named David Dao was forcibly dragged from a flight after being involuntarily selected to be bumped in favor of crew members needing transport. In Dao's case, however, he was chosen to be pulled from the flight at random, and not because he had been disobeying the crew.
Dao later settled a lawsuit with the airline for an undisclosed amount.