JetBlue flight makes emergency landing over mystery odor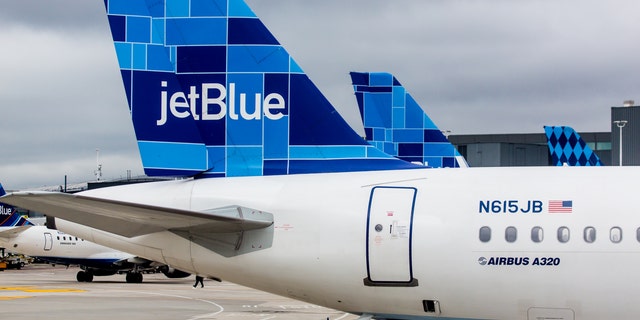 What a stink.
A JetBlue flight en route from Fort Lauderdale-Hollywood International Airport to Boston was forced on Thursday evening to make an emergency landing in Charleston after crew reported fumes in the aircraft, News 2 is reporting.
The Federal Aviation Authority (FAA) confirmed that JetBlue Flight 170, an Airbus A320 aircraft, touched down safely in Charleston around 6:30 p.m., according to Live 5 News.
A company spokesperson for JetBlue confirmed to Fox News that customers deplaned normally upon landing and were accommodated on another aircraft.
SPIRIT AIRLINES EMPLOYEE TOLD STUDENT TO FLUSH EMOTIONAL SUPPORT HAMSTER DOWN THE TOILET, STUDENT ALLEGES
"You could definitely smell gasoline or jet fuel. It just seemed a little funky in the air. Some of us who are nervous flyers got a little nervous and we were wondering if we felt sick or not," passenger Jaimie Hazebrouck told the outlet.
"It was definitely a little bit overwhelming. We were anxious to get off the flight," he added.
Hazebrouck added that the pilot remained calmed throughout the event, adding that JetBlue offered them food and ensured that passengers were kept notified with updates.
QUEEN ELIZABETH SPOTTED RIDING TRAIN LIKE EVERYBODY ELSE
Oddly enough, this is the second time in the year a JetBlue flight has had to make an emergency landing due to a strange odor on board. The same incident went down a month ago, when a Punta Cana bound flight from Boston was forced to return to Logan Airport because of an "unusual odor."
The FAA continues to investigate the Feb. 8 incident, Live 5 News noted.