JetBlue changing emotional support animal policy, adding requirements for additional documentation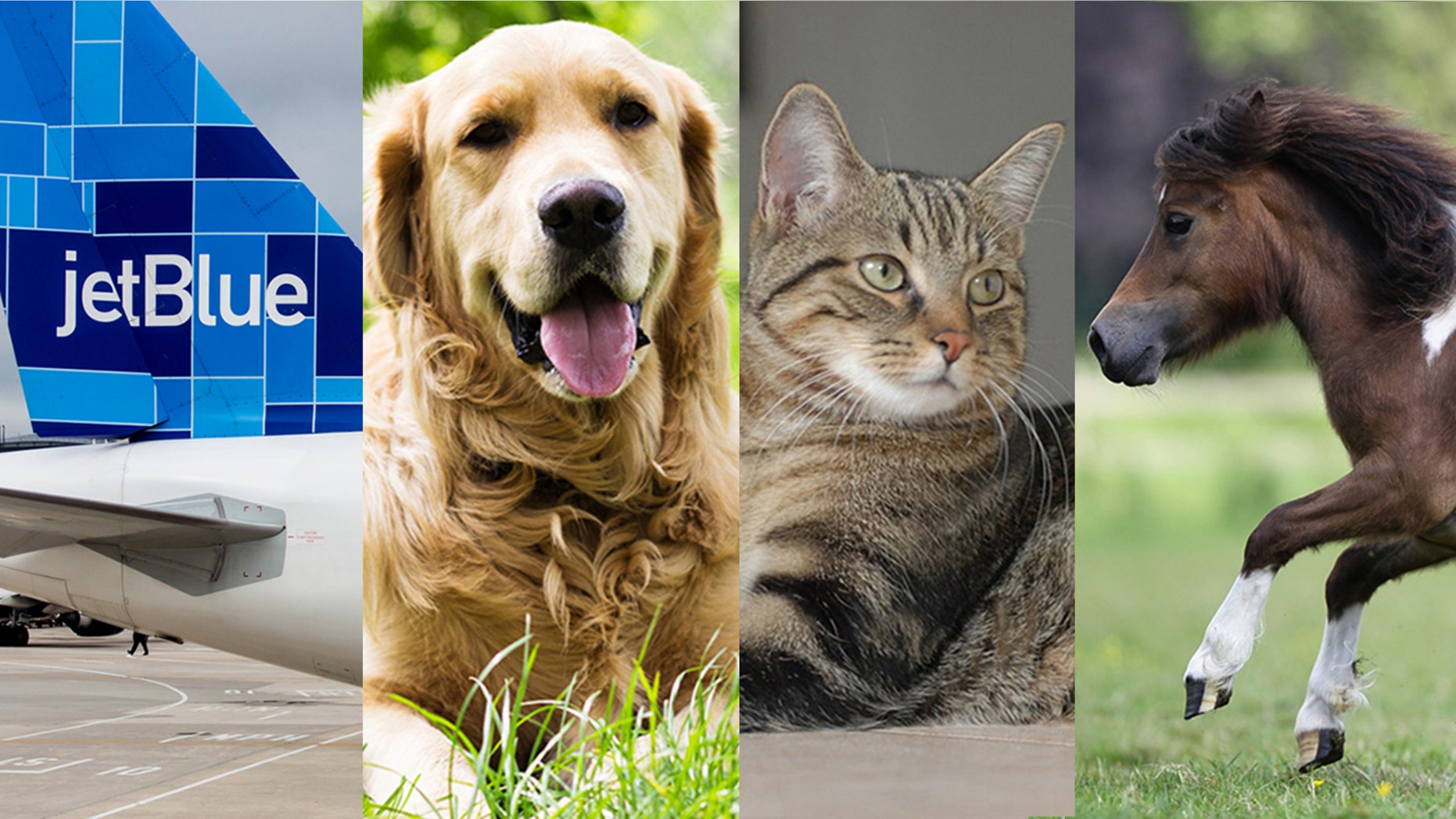 JetBlue is tightening the leash on its emotional support animal policy, accepting only dogs, cats, and miniature horses on board as of July 1.
The New York-headquartered carrier announced the new rules in a recent statement, which also stipulated that passengers traveling with these animals would need to submit three documents verifying the pet's status an emotional support or psychiatric service animal. Customers must inform JetBlue 48 hours in advance of their trip, and accept all liability for any injuries or damages the animal may cause on board.
OWNER OF DOG WHO DIED DURING DELTA LAYOVER ACCUSES AIRLINE OF 'COVER-UP'
"The new requirements follow a dramatic increase in industry incidents involving emotional support animals that haven't been adequately trained to behave in a busy airport or the confined space of an aircraft, which creates health and safety risks for customers, crewmembers and other service or support animals," the statement reads.
JetBlue is the latest major carrier to join the pack of airlines instating restrictive rules for traveling with support animals in the skies. In recent months, United Airlines, Delta Air Lines and Alaska Airlines have all cracked down and introduced new policies on the matter, citing escalating instances of customer abuse and animal-related incidents mid-flight.
"People have been abusing this category of animals — it's essentially to bring the family pet along," Taylor Garland, spokeswoman for the Association of Flight Attendants, told Fox 25 of the policy changes. "This issue has grown so much over the last few years that it starts to legitimately affect the people who really do need these animals."
QATAR AIRWAYS CEO APOLOGIZES FOR SAYING AIRLINES NEED TO BE RUN BY MEN
In January, the story of a woman who was denied boarding her United flight with an emotional support peacock went viral and sparked national debate about the ethics of the policy.
In 2017, U.S. airlines flew 751,000 comfort pets — a whopping 80 percent leap from 2016, according to an informal survey from Airlines for America quoted by the Dallas Morning News.
FOLLOW US ON FACEBOOK FOR MORE FOX LIFESTYLE NEWS
JetBlue's previous policy only required one document confirming the passenger's mental health requirements for an emotional support animal, a company spokesman confirmed.