Instagram model arrested for attacking police during nude encounter at Florida hotel
Brissa Dominguez has a lot of fans on social media, but probably not so many on the Clearwater Police Department.
Dominguez, a 25-year-old Instagram model who goes by the handle "baybaddiebrie," was arrested earlier this month at the Edge Hotel in Clearwater, Fla., after attempting to attack police during a nude encounter on the hotel grounds.
According to the Clearwater Police report obtained by The Smoking Gun, Dominguez (or Dominguez-Garcia, as written in the report) had trespassed onto the Edge Hotel's property at approximately 4:20 a.m. on July 5. Officer Richard Edmonds later arrived on the scene to find Dominguez naked, so he handed her a towel. But instead of covering up, Dominguez used the towel to "strike [Edmonds] in the face by swinging it in a whipping motion."
NYC HOTEL GUEST ARRESTED AFTER RETURNING TO RETRIEVE GUN
Dominguez then proceeded to kick at the responding officers. The police report says she also tried biting and spiting on an officer before delivering a "mule kick" to Edmonds as police attempted to restrain her.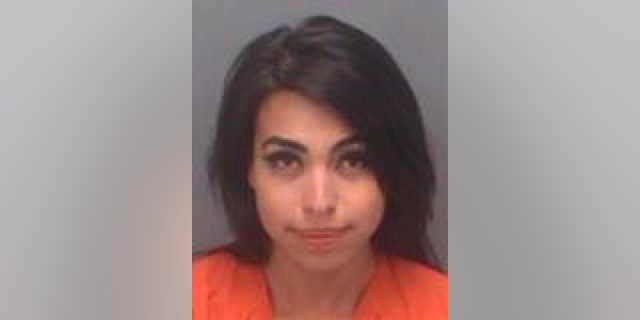 Officers eventually arrested Dominguez on charges of trespassing, resisting an officer with violence, and battery on a law enforcement officer. She was reportedly freed from custody after posting a $10,000 bond.
In addition to the modeling she does on Instagram, Dominguez has also modeled for smoke shop called Joint Venture. Her personal Instagram page currently boasts 77,300 followers.
FOLLOW US ON FACEBOOK FOR MORE FOX LIFESTYLE NEWS
Since Dominguez's arrest, however, her popularity has only seemed to increase on Instagram. At the time of the Smoking Gun's initial report on July 10, the site wrote that Dominguez only had 74,000 followers.