Indonesian airline delays flight after passengers argue with staff over smell of durian fruit in cargo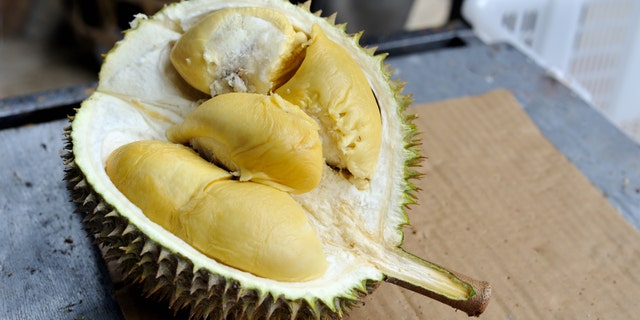 An Indonesian airline was forced to delay a flight on Monday after the pungent smell of durian permeated the plane's cabin and almost caused a brawl between passengers and crew.
Travelers aboard a Sriwajiya Air flight from Bengkulu, in Indonesia, to Jakarta complained of the odor prior to takeoff, insisting that the airline remove the spiky, smelly fruit — of which there was nearly 4,500 pounds in the cargo hold — from the flight, per The Straits Times.
DELTA APOLOGIZES AFTER CUSTOMER WAS 'COVERED' IN DOG POOP FROM SEAT
The situation inside the cabin reportedly became so bad that passengers and crew almost came "to blows," according to The Jakarta Post, citing a report from an Antara news reporter who was on the flight.
Airline staff had claimed the smell would dissipate once the flight was in the air, but passengers refused to fly and deplaned. Passengers on the ground later recorded crews unloading the shipment of durian from the cargo area.
The incident delayed the flight approximately one hour.
FUEL TANKER AT CLEVELAND AIRPORT SPILLS 5,500 GALLONS OF JET FUEL
A representative for Sriwijaya Air has since claimed the smell of the durian was intensified because of the heat, despite wrapping the fruit and "putting in pandan leaves and coffee powder" to absorb the odor.
"Durian is not classified as a hazardous material to be transported on a plane," Sriwijaya Air's Abdul Rahim stated in a television appearance, the Straits Times reported.
The airport in Bengkulu, meanwhile, is said to be rethinking how durian will be transported on future flights.
FOLLOW US ON FACEBOOK FOR MORE FOX LIFESTYLE NEWS
This isn't the first time durian has caused a literal and figurative stink. In April, 600 people were evacuated from the library of the Royal Melbourne Institute of Technology — and crews were dispatched to check for gas leaks — after a rotting durian was left inside a cupboard.
The fruit, which is sometimes referred to as the "king of fruits," has a creamy, stringy texture, but also a smell that Smithsonian magazine once compared to "turpentine and onions, garnished with a gym sock."
"Bizarre Foods" host Andrew Zimmern — who famously eats the world's most intimidating and off-putting foods, once also likened it to "rotten mushy onions" and said it was even "too much for [him]."