Hurricane Irma's landfall forces 10,000 flight cancellations, more expected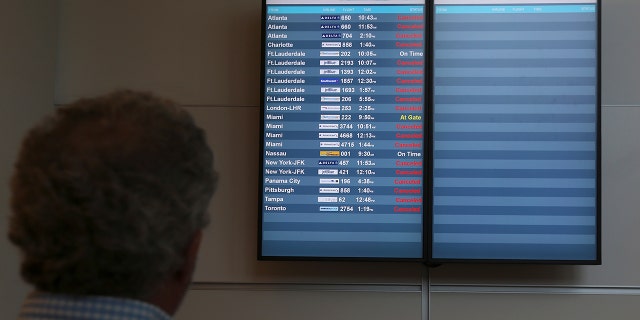 NEWYou can now listen to Fox News articles!
As Hurricane Irma makes landfall in the Florida Keys, airlines are canceling flights scheduled to and from Florida, shutting down some of the largest and busiest airports in the nation.
By 6 p.m. Saturday, at least 7,000 flights had been canceled as the devastating Category 4 hurricane neared closer to Florida's southern tip. This brings the total of canceled flights to about 10,600 since Irma first drew concern in the Caribbean, according to a report by USA Today – with possibly thousands more on the way as it continues its path up Florida and into Georgia and Alabama.
HURRICANE IRMA'S STORM PATH: WHAT YOU SHOULD KNOW
Officials from the Tallahassee International Airport tweeted that the airport will stop flights after 5:40 p.m. today and will not resume flights until Tuesday. An airport in Savannah, Georgia canceled all of its flights Saturday evening in anticipation of Irma's land, and Atlanta – the busiest airport in the world – may follow suit as forecasters show Hurricane Irma's path to slam the metro area Monday or Tuesday.
"As Delta meteorologists continue to track Hurricane Irma, strong winds and extended rain are expected in Atlanta starting Monday and could impact flights at the hub," Delta said in a Saturday statement.
FOLLOW US ON FACEBOOK FOR MORE FOX LIFESTYLE NEWS
Delta encouraged all flyers with itineraries involving Atlanta to change their travel plans through Delta's website.
Flight operations are likely not to resume until after Monday, at the earliest. FlightAware showed more than 1,700 flights had been grounded for Monday and another 150 for Tuesday as of Sunday morning.