Holiday Shopping Takes off at the Airport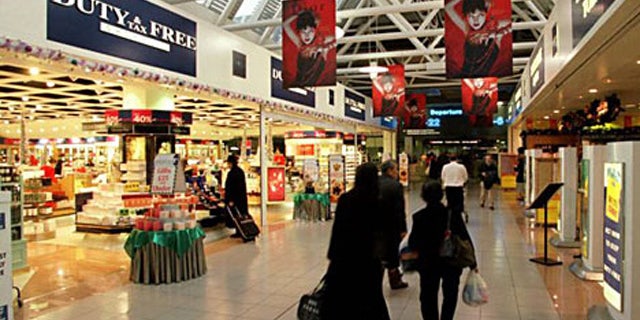 Have you started your Christmas shopping yet? If you're like me, and all the procrastinators out there, the answer is probably no. Between juggling work and family – who has time – especially if you add holiday air travel on top of everything.
If the stress is getting to you, take a deep breath, and find a little solace in the fact that you can get a lot of your shopping done at the airport.
That's right – the airport.
It's not just about cheesy mugs and shot glasses anymore. These days terminals are so packed with stores you'd think you were walking through a mall. And shopping with a boarding pass comes with some surprising cost-saving perks.
Walt Froman, senior manager of concessions, marketing and operations at the Portland International Airport told FoxNews.com there are many benefits to shopping while you wait for your flight.
"We have true street pricing here, which means the price at the airport is the same price you'll find off-airport," he said. "Another big bonus is that there is no sales tax. So we have the best the market has to offer of local and regional shops as well as restaurants at street pricing and no sales tax."
Froman said the retail side of things really started to take off in the early 90's when they remodeled a section of the airport and opened the Oregon Market.
"It's almost exclusively local or regional kind of hometown-type stores, and restaurants also. That all started years ago and we have just grown upon it over the years and in fact two weeks ago we launched the 'Thanks Again' program where passengers or employees of the airport can register any credit or debit card they carry and tie it to an existing airline mileage program and earn miles for shopping, dining or parking at the airport."
Click here for more information on the "Thanks Again" program.
In addition to that program, the airport offers a promotion every year called "Holidays Take Flight," which got underway this week.
"It's is a major sales promotion with sale or special merchandise, trunk shows, special menus, special events and entertainment – the whole gamut," Froman said. "We also help promote air travel during this time, and this year Spirit Airlines has provided us with two sets of round trip tickets to Las Vegas for passengers to win through a sweepstakes."
Click here for your chance to win.
As Froman mentioned, the airport grabs every opportunity to feature local and regional goods, and as a result, air travelers are able to take a piece of Portland home with them.
"We have the Made in Oregon store, which has been here for over 30 years, and they sell exclusively Oregon merchandise. The Real Mother Goose, which is American handcraft items that range from beautiful pottery to apparel. We have Powell's Books, which is the world's largest independently owned bookstore, we have Columbia Sportswear, which is hometowned here and we also have Nike. It's the only Nike operation in an airport. Additionally we have restaurants that are local including Elephant's Delicatessen. We have Beaverton Bakery, which is a hometown bakery that's been in operation for over 90 years. We have Laurelwood Brewing Company, which is a local microbrew and restaurant, and we also have Rogue Ale and many more."
If you have a beer or wine lover in the family – you're in luck. Retailers at the airport carry many of the products made by the more than 50 microbrews and 200 vineyards in the Portland-area.
"Our retailers as well as our restaurants sell those products and a lot of them have pre-security and post-security operations so that they can sell the beer and wine post-security to take home on the plane."
With that said, if any of my family members are traveling through Portland in the next couple of weeks, I will take a nice bottle of Oregon Pinot Noir.
Now, if you're worried about getting gouged at the airport – don't. Just like Portland, retailers at airports across the country are offering the same deals whether you're at your local shopping mall or at Terminal C in Newark Liberty.
"Typically stores (at the airport) honor the prices at the stores you see on the street," Ellery Plowman, VP of airport leasing with Westfield Concession Management, told FoxNews.com.
Westfield Concession Management oversees more than 600 stores in nine major airports including Boston, JFK, Newark Liberty and Chicago O'Hare,
"We have national retailers all the way down to the local mom and pop operators on the street that want to expand their operation into the airport that offer local souvenirs or some type or artisan product that you can only get at that specific airport and everything in between," Plowman said. " You name it, we've got it,"
Plowman, a frequent business traveler, said along with store prices being the same, other benefits include time savings and having an array of merchandise right at your fingertips.
"When you have an hour before you take off, you can shop right in front of you. You certainly don't have to go to the mall and get a parking place. A lot of times, this is your downtime. I know as a business traveler, this is a time where I can really focus. I don't have to think of a thousand other things I have to deal with. I'm just thinking 'OK I've got an hour I can use for shopping,' And I think that's a big benefit."
But in my opinion, as a self-proclaimed procrastinator of holiday shopping, I think the absolute biggest benefit is that fact that airport stores are almost always open.
"We're open 365 days a year, and most operations are open 16 hours a day, so we are open on Christmas Day and Thanksgiving, and we promote that and we get people here shopping," Froman said. "If people have waited until the last minute, we are pretty much the only place in town where you can shop on Christmas Day."
So remember, if you get in a jam, and need to do some last-minute holiday shopping – check out your local airport. They may just have the exactly what you're looking for.