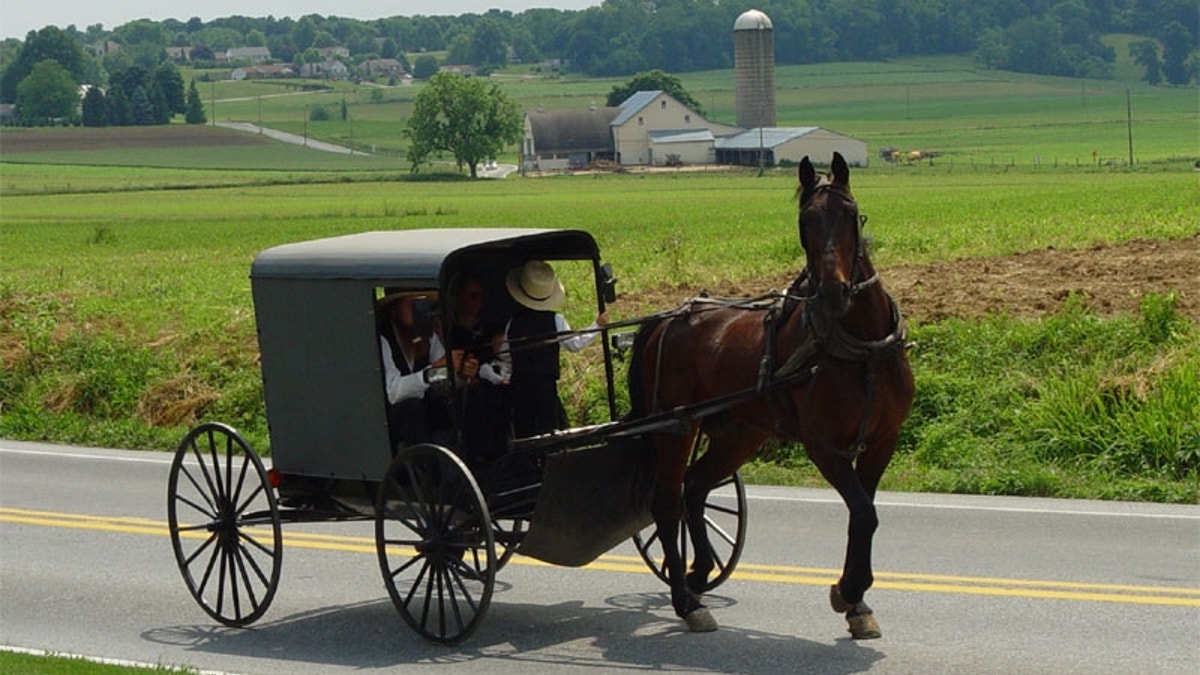 So this is what it would look like if a J.Crew ad came to life: It's a Saturday afternoon in the Prince Street Cafe, a coffee-and-sandwich spot in Lancaster, Pa. A couple in their 20s canoodle on a plush leather couch by the fireplace. A 30-something in thick, black-framed glasses punches away on a laptop between bites of a green salad topped with quinoa, and a college-age girl with a brunette pixie doodles in her sketchpad.
It comes as a bit of a surprise, then, when you wander upstairs to artist Julia Swartz's gallery and find a series of portraits depicting local Amish men-straw hats, serious-looking black suits, and all. Here at the Prince Street Cafe, it's easy to forget you're in Amish Country.
You may think you've heard of Lancaster, but chances are you're thinking of the county, not the city. It's rural Lancaster County, an hour-and-a-half drive west of Philadelphia, that's famous for its large population of Amish families--and their horses and buggies.
The city of Lancaster sits in the middle of this slice of the past, but traditionally visitors haven't exactly flocked here. And why would they? For years, there wasn't much city to see, aside from some old cork, cigar, and clock factories.
That's changing, thanks to folks like Swartz.
"There have always been creative people here," says Swartz, 59, a lifelong county resident. "But nobody did much about it, until one guy set up a gallery. And then, just like that, a whole bunch of us did."
Swartz opened her space on Prince Street four years ago, after winning a series of regional painting competitions (17 N. Prince St., 8" x 10" canvas prints from $55). Now the small city is home to 32 galleries.
Of course, the Amish community is still the main draw in Lancaster County. Yet the rise of a modern subculture has layered some spicy mustard on top of what had always been a plain-pretzel kind of place. The two worlds don't often mix, but when they do--say, at a traditional Amish mud sale--the combination is delicious.
69 MILES
It's a wonder that Lancaster can feel young at all considering how old its bones are. It was founded in 1730 and is the oldest city in the U.S. not set on a coastline. Many of its original 18th-century red-brick sidewalks and stone Colonial homes still stand, now renovated into hip cafes, bars, and galleries.
"It used to be that artists moved here because Lancaster was a lot cheaper than New York, Philly, or Baltimore," says Elizabeth Todd Lambert, president of LancasterARTS, a local nonprofit that promotes the galleries, symphony, and six museums in town. "But now successful artists are coming because they want to be a part of the scene here. It's a draw in itself."
Starting at the Prince Street Cafe (15 N. Prince St., sandwiches from $6.50), there's a three-block chain of studios and exhibit spaces called Gallery Row. You could stroll the whole strip in 20 minutes, but it's so densely packed with galleries that it takes a full afternoon to do it justice.
I ended up at Building Character, a former warehouse whose wide stalls now house 37 jewelry, crafts, vintage-clothing, and furniture booths (342 N. Queen St., vintage dresses from $20). I scored a handmade, 1950s floral silk dress for $90. I'm sure it would have run $200 or more in a similar shop in New York or Philly.
I found a similar high-end, low-cost deal across town, at the Cork Factory Hotel (480 New Holland Ave., doubles from $129, including breakfast). The 77-room boutique inn, opened in 2010 by a local family, is housed in a red-brick foundry once used to manufacture cork and glass.
On the ground floor, the black-leather booths in the Cork & Cap Restaurant were packed by a boisterous crowd of suits celebrating happy hour. Meanwhile, in my fourth-floor room--which had huge, glass-paned windows and soaring ceilings with exposed wooden beams--it was as peaceful as a church.
58 MILES
Lancaster County welcomes more than 11 million tourists every year, and most make a beeline for one of two places: the (oddly named) towns of Bird-in-Hand and Intercourse.
I made quick visits to both, and they're charming, for sure--the buttered brown noodles at Stoltzfus Farm Restaurant alone merit a visit to Intercourse (716 E. Newport Rd., family-style meal $17 a person). But by and large, they come off more like Epcot Center attractions than authentic slices of Amish daily life.
For that, your best bet is to hit up a mud sale, an open-air auction unique to Lancaster County. The Amish have been hosting them here since the 1960s, in spring. But recently, the mud sales have grown so popular--thanks, in part, to all the new residents in Lancaster--that they're now held on Saturdays from February to October, all over the county.
From Lancaster, I headed south on two-lane roads, beneath covered bridges and past silos, windmills, and grain fields. The landscape was a patchwork of rolling green-and-gold fields that, from an aerial view, probably looked something like a suburban lawn with big pats of butter on it.
I arrived in Rawlinsville at 9:30 a.m. The air was filled with Pennsylvania Dutch--a German dialect the Amish use with one another--and the muddy field was a sea of Amish straw hats and Carhartt-brand ball caps, bobbing between a circle of tents and barns. Auctions take place throughout the day; quilts and handmade furniture at 8:30 a.m., horses at 11 a.m., and buggies at
1 p.m. The items up for sale are provided by locals, with a cut of the proceeds going to area volunteer fire companies.
After registering, I was handed a pink paper bid card and directed to the nearest tent, just in time to catch the bidding on a beautifully restored, 1920s oak-and-leather steamer trunk.
"Come on, don't let $5 stand in the way between you and this beauty!" the Amish auctioneer yelled before a young couple snatched it up for $75. Another couple took home a gorgeous king-size quilt for $130; I'd seen a similar style priced at $300 at a shop in Intercourse. Who cares about the mud when there are steals like these?
Thankfully, Hazel Nestleroth didn't mind a little dirt either. When I arrived that evening at Airy Hill Farm Bed & Breakfast, the farmstay she runs with her husband, Mark, near Manheim, the cake-like mud I'd been slopping through all day had dried like a crusty fringe from my ankles down. Hazel cheerfully offered to launder my jeans and helped me scrub off my shoes. It probably helped that she and Mark had spent 25 years as pig farmers.
Like many farmers in Lancaster, Mark Nestleroth lives on the same plot of land his family has owned for five generations, since the 1850s.
Nestleroth's 20 acres sit up on a hillside, overlooking a quilt of other farm plots, including a dairy run by the chocolate-making Hershey family.
Mark and Hazel opened their three-bedroom ranch-style home as a B&B just two years ago, but it's quickly gained a reputation as one of the area's best (1741 Airy Hill Rd., doubles from $139, including breakfast).
It's easy to see why, after one bite of the sweet and gooey shoofly pie Hazel makes.
"My mother never could bake a thing--seriously--until she found this recipe," Hazel said, as she showed me and a guest how to transfer dough from the rolling pin to the pie pan. On request (and for an extra $35 per room), she teaches baking classes and sends each pupil home with his own shoofly pie--and a laminated copy of the recipe.
In the morning, I woke to see a parade of horse and buggies speed by outside, on their way to Sunday morning church services. Hazel prepared a breakfast of omelets, pastries, and fresh fruit while Mark kept me and the other guests busy in the red wooden barn.
We went on an egg hunt in the squawking henhouse, bottle-fed the two newborn calves, and gave the baby sheep their share of petting. After chores, Mark led us to a small stable, home to the Nestleroth's new star attraction: Bob, a baby miniature horse.
His brown-and-white downy head stood less than 12 inches tall, and when he wasn't nursing, he shyly pranced around the driveway, like he was walking on tiptoe.
"All the kids are just going to love him," Mark said, referring to both his eight grandkids and the children who visit Airy Hill as guests.
Judging by how the two adult men in our group--one a construction worker, the other an engineer--literally cooed at the sight of him, Bob seemed poised to become another Lancaster newcomer who draws quite the crowd.
For more on traveling in Pennsylvania, check out our travel guide >>
SEE MORE POPULAR CONTENT:
10 Popular Travel Scams Around the World
4 Most Common Reasons Airlines Lose Luggage
10 Coolest Small Towns in America
Top 10 Most Shocking Mummies in the World