Gay couple 'disappointed' with Eva Air, claims airline separated family during priority boarding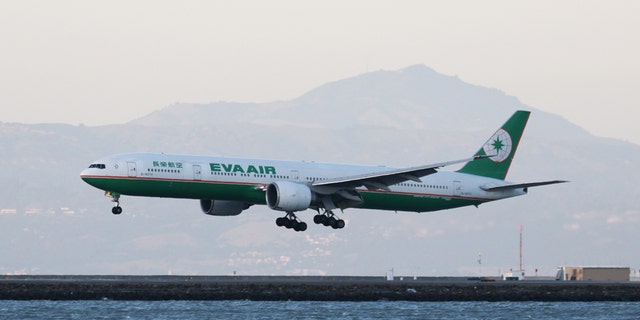 A gay couple is claiming they were separated during priority boarding while straight families were allowed to board together.
Jeff Cobb and his husband were flying from San Francisco to Taipei, Taiwan with their 19-month-old child on Saturday when Cobb says an airline crew member told the men they could not both board in the family boarding group.
AMERICAN AIRLINES APOLOGIZES TO PASSENGER FOR 'SHREDDED' SUITCASE, MISSING ITEMS
"My husband and I were told only one of us could join our 19-month-old in the family boarding group of EVA Air 27 from SFO on 9/1/18," Cobb wrote on Twitter. "I explained we were both the fathers of the child, and they said it was their policy that only one parent can board and the other has to wait in the normal line. Not having flown EVA before, I accepted it and let my husband and child go while I boarded later."
Cobb said when he finally boarded the plane, his husband told him straight families had been allowed to board all together.
"When I met him on the plane, he said there were many other (straight) families all boarding together," Cobb said, International Business Times reports. "I'm very disappointed that the EVA ground staff at SFO thinks it's OK to separate same-sex families during boarding. I will definitely not be flying this airline again after this incident."
UNITED AIRLINES APOLOGIZES AFTER FLIGHT ATTENDANT FORCED INFANT TO SIT IN 'A DANGEROUS POSITION'
The airline's family boarding policy is not available on the website and Eva Air did not immediately respond to Fox News' request for comment, but a representative told the International Business Times the incident was a "misunderstanding."
"EVA Air and most especially our San Francisco International Airport team sincerely apologize to all the passengers affected by this incident. It is our policy that passengers traveling with infants can have priority boarding," a representative said.
"The policy does not limit the number of accompanying adults or specify the relationship to the infant. This unfortunate incident was due to misunderstanding," the statement continued. "Our San Francisco ground-handling agent understood that only one parent could board with an infant. We have apologized to our passengers and reminded our airport staff and agents about our priority boarding policy so that we can prevent this kind of incident from happening again."
FOLLOW US ON FACEBOOK FOR MORE FOX LIFESTYLE NEWS
Those on Twitter called the airline "shameful" and asked for better staff training.
This is not the first airline to be accused of separating a gay couple while keeping straight couples together. In July, Alaska Airlines apologized to a gay couple after one of the men said an airline flight attendant gave "preferential treatment to a straight couple."
Alaska Airlines said the incident was because of a seating mistake involving another couple in Premium Class.