Frontier Airlines passenger opens cabin door, deploys emergency slide on taxiway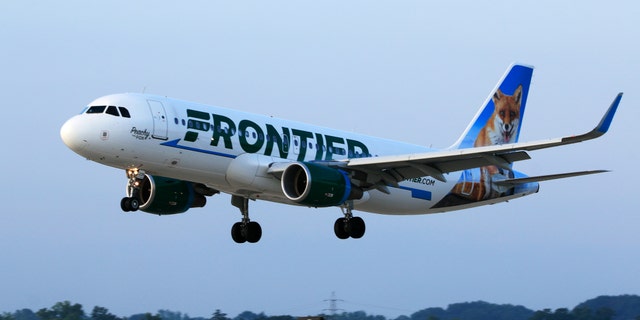 A Frontier Airlines flight scheduled to leave Cancun for St. Louis was suspended on Monday after an ill passenger managed to open the cabin door as the plane was taxiing and deploy the emergency slide on the taxiway.
"We were in the front row and a gentleman behind us started throwing up," Andy Karandzieff, another passenger aboard the flight, told Fox 2.
MIAMI AIRPORT GIVES ALL-CLEAR AFTER 'SECURITY CONCERN' GETS FLIGHT EVACUATED
Karandzieff then said the man left his seat in a panic and began banging on the cockpit door, prompting crew to reseat him. But the sick passenger left his seat once more, this time managing to open the cabin door, which automatically deployed the emergency slide.
The passenger was also fighting off a flight attendant, Fox 8 reported.
Footage taken by a third passenger, Kathleen Ingham, shows several people, including crew, trying to restrain the man in front of the opened cabin door.
"Thank God for the brave men and women who held him in the plane or he for sure would have been sucked into the engine," she wrote on Facebook.
WHAT HAPPENS IF THE EMERGENCY EXIT DOOR IS OPENED MIDFLIGHT
Police reportedly arrived and escorted the passenger from the aircraft. He was later transported to a hospital.
The passenger's mother, who was not on the flight, claims the man and his father had taken a trip to Cancun, and that the incident occurred while they were returning home. She also offered possible explanations for her son's behavior, and suggested that he may have consumed a drink that was spiked.
The man's mother added that her son was attacked at his hotel the previous evening, during which he was struck on the head, Fox 8 reported.
FOLLOW US ON FACEBOOK FOR MORE FOX LIFESTYLE NEWS
Frontier Airlines confirmed to Fox 8 that the plane was grounded and travelers were accommodated on other flights or given hotel rooms for the night.