Family booted from Southwest flight over 'rowdy' kids, parents say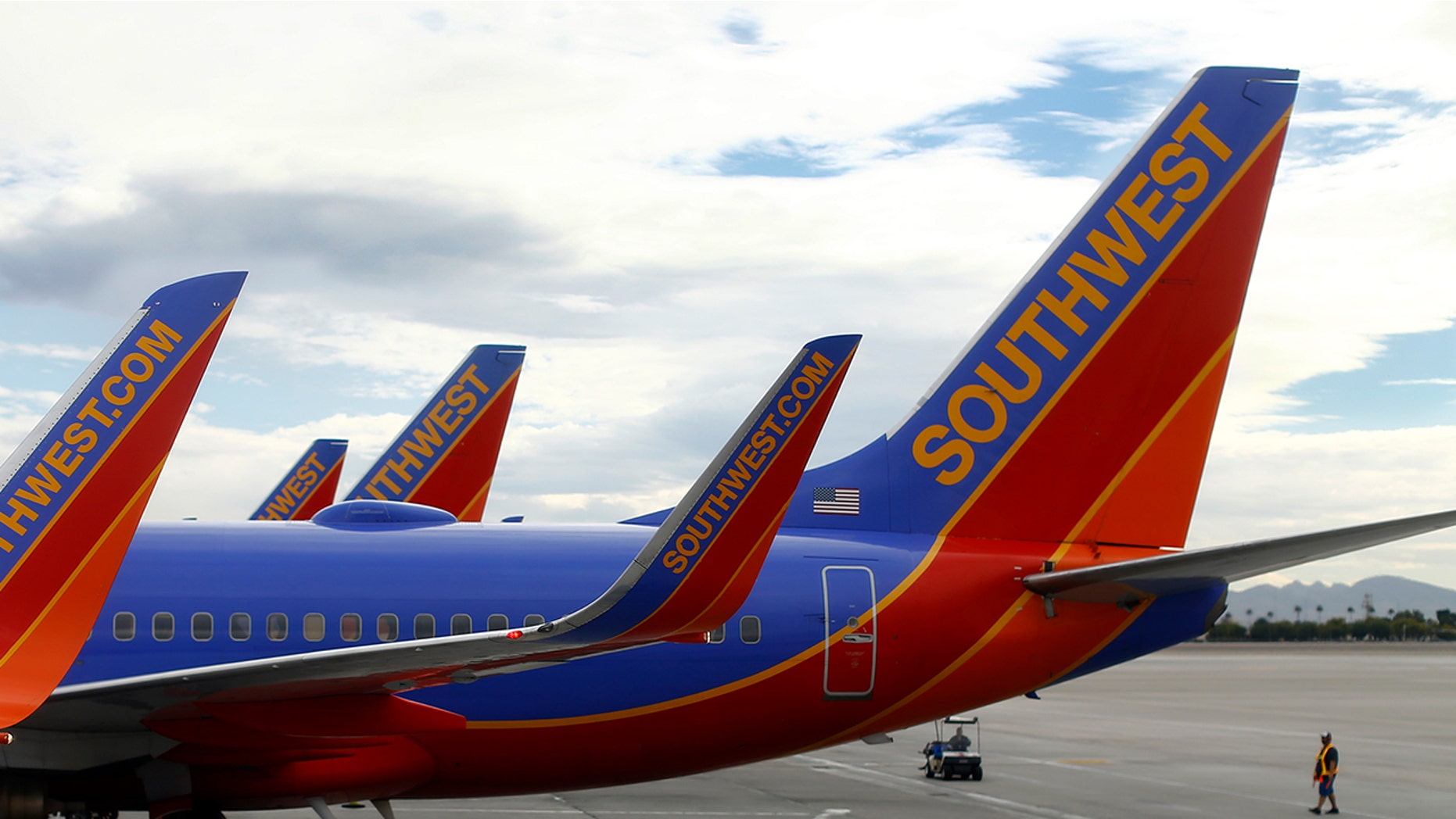 Traveling with small children can be a challenge in itself, but the patience of one Los Angeles couple was put to the test when Southwest Airlines unexpectedly booted their young family of four off a flight on Oct. 9.
That evening, Erin Gatling and Craig Schilling took to Facebook Live to share the details of the traveling nightmare. Situated in Chicago's Midway International Airport, with their 3-year-old son Gunner and 16-month-old daughter Paige, Schilling reports that the airline told the family that their next flight was canceled because their kids were "noisy" and "rowdy" on the initial flight.
He added that they were waiting to speak to a dozen police officers, who brought along a crime dog, about what happened.
PASSENGER TRIES TO STAGE A SIT-IN PROTEST ON PLANE AFTER FLIGHT IS CANCELED
"We don't even know what we did wrong," he says.
Describing her family as "very frequent world travelers", Gatling shared Schilling's video with her own Facebook post, pointing out that her son has been on 70 flights, and her daughter has been on about 30. Between "30-90" percent of those have been Southwest, she said. She was appalled that the plane staffers said her children were "being a disturbance," thought they did not scream or cry at all during the trip.
SOUTHWEST AIRLINES OFFERING $42 FLIGHTS FOR LIMITED TIME
"The only further explanation was 'running up and down the isle and jumping on tray tables," the mother wrote, although she doesn't believe that's a valid explanation, either. Further, she noted that they never opened the tray table and only got up once to use the restroom. As Paige followed her mother to the restroom from their near-rear seats, Schilling said a flight attendant stepped on his wife's previously sprained ankle, making her "cry in pain."
Lastly, Schilling said he was arrested for making "physical contact with a supervisor" while on board, for bumping someone with their stroller, which he also denies. Detained for six hours, Gatling and the kids waited at the airport until Schilling was released at 1 a.m. Ultimately, Gatling told Yahoo Lifestyle that her husband was charged with battery for the incident, and that a November court date is set.
FOLLOW US ON FACEBOOK FOR MORE FOX LIFESTYLE NEWS
Likewise, Southwest offered a statement to the site, saying they were "disheartened" by the way the situation unfolded.
"In addition to providing legendary customer service to each customer onboard, our flight attendants are responsible for enforcing regulations as well as our policies to ensure the safety of those traveling with us. Our reports indicate customers traveling onboard flight 102 were not following inflight instructions," they said.
"A Southwest supervisor met the customers upon arrival at their connecting city, Chicago, to discuss the events that occurred onboard. The customers were unwilling to be approached by our employees in the airport and when the situation escalated, local authorities became involved," they added.
The airline furthered noted that they refunded the Schilling-Gatling's trip. "The safety and wellbeing of our customers and employees is of the utmost importance to all of us at Southwest Airlines," they said.
Gatling declined a request to comment for Fox News.