Expedited Airport Security Screening Saves Frequent Travelers Time, Headaches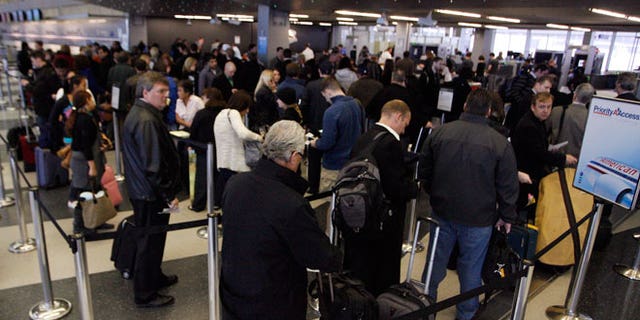 You know the drill - shoes off, belt off, jacket off, pockets emptied as you're herded like cattle toward the X-ray scanner. Frequent fliers undergoing this painful process on a regular basis, take heart: there's hope in the form of two expedited airport security screening programs.
Time-consuming, tedious, demoralizing, maddening - just a few words to describe how travelers feel about the security screening procedures at airports, and not a great way to begin or end a successful business trip.
For frequent fliers, the countless minutes and hours spent in line waiting to be processed is an inefficient use of the traveler's time, as well as her company's. But there's hope on the horizon in the form of Global Entry and PreCheck, two pre-approval programs that promise to make airport screening faster and (virtually) painless.
Global Entry is a U.S. Customs and Border Protection program that expedites customs for pre-approved travelers re-entering the U.S.
Target audience: Frequent international travelers (but no minimum number of trips required to qualify).
How it works: After undergoing a "rigorous background check and interview", an approved traveler scans his passport and fingerprints at an automatic kiosk in the airport's customs area then makes a customs declaration. The kiosk prints out a receipt, then the traveler is free to proceed to the baggage claim. Average time quoted for the whole process? 60 seconds.
Cost: $100 non-refundable application fee
Locations: Over 25 airports in the U.S. and 39 total airports worldwide - full location list here.
PreCheck is the TSA's domestic expedited security screening program.
Target audience: Frequent fliers on Alaska, American, Delta, United and US Airways; travelers approved for the Global Entry program are automatically enrolled in PreCheck.
How it works: An enrolled traveler enters her passenger ID number in the "Known Traveler" field when booking a ticket. Once at the airport, if the TSA deems the passenger safe for expedited security screening, the approval is embedded in her boarding pass's barcode. When scanning her boarding pass at certain checkpoints at participating airports, she can access a special security lane where passengers don't have to remove shoes, belts, and jackets, or liquids and laptops from carry-ons before screening.
Cost: Free
Locations: 26 U.S. airports, expanding to 35 by the end of the year - location chart here, with checkpoint and gate details.
While there may be concern about security breaches by "trusted travelers", the agencies assure the traveling public that thorough pre-screening is in place, and members of both programs are still subject to randomized checks at the airport.