Etihad Airways offers 'flying nannies' for on-board childcare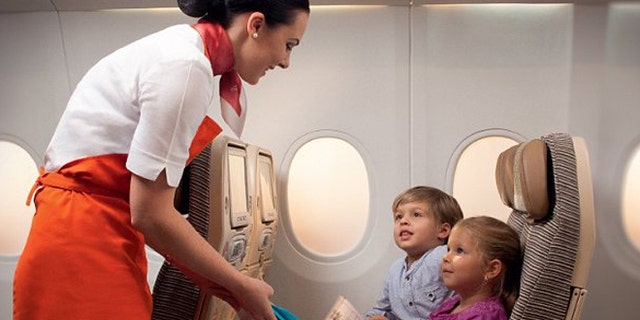 First there was Nanny in the Clouds -- a website that connects parents with nannies who are traveling on the same flight.
But what if flights already came with nannies on board?
Now, one airline is offering that service.
[pullquote]
The UAE-based Etihad Airways announced it has launched a new flying nanny service on board its long haul flights to provide a "helping hand" to families and unaccompanied minors.
The specially- training flight attendants, who attended special training at the U.K.'s prestigious nanny school Norland College, will be wearing identifiable bright orange aprons and will provide their pint-seized passengers with a stream of food, drinks and mile-high distractions, such as sock puppet making and magic tricks. In conjunction with the announcement, the airline said it is also releasing a string of new animal characters--Zoe the bee, Jamool the camel, Kundai the lion, and Boo the panda – to help keep kids entertained.
For the older kids there are quizzes and challenges as well as taking them on tours of the galley.
The company said that 300 cabin crew had already been trained by the Bath-based college in the last two months, and 200 more are expected to be trained by the end of the year. The all-female crew were selected based on a volunteer basis.
"Flying with a young family can be a daunting task, even for the most experienced travelers, and the flying nanny role demonstrates our understanding of our guests' needs and our commitment to make the journey as relaxing and comfortable as possible," Etihad Airways' vice president of guest services Aubrey Tiedt said in a statement. "This demonstrates our intent to go the extra step to assist all of our customers."
This announcement comes as other international airlines, such as Singapore Airlines, have either banned children from certain sections of the aircraft or are offering passengers kid-free quiet zones.