Egypt is Middle East's newest ski destination as slope opens at massive mall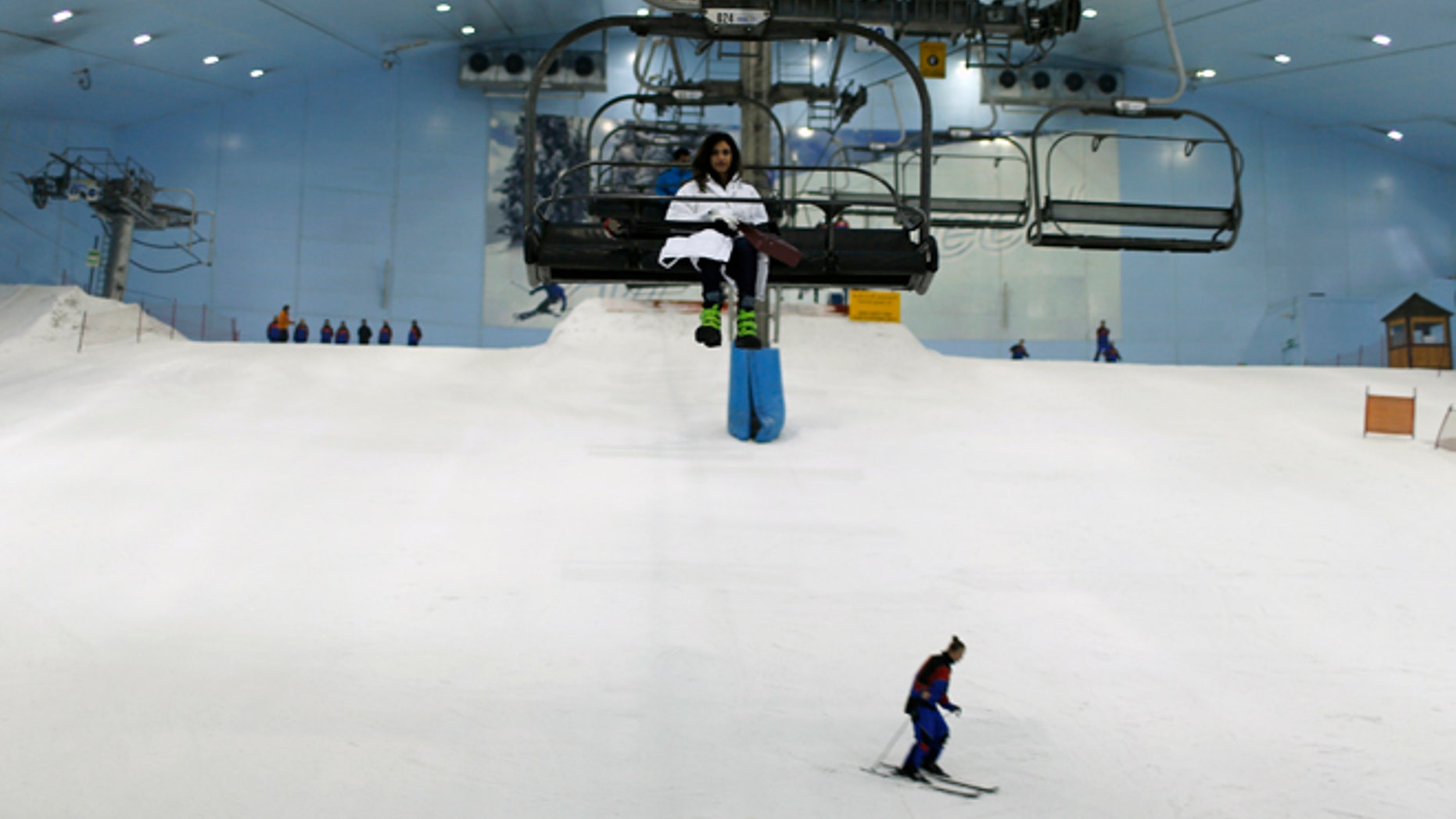 Take a minute and think about famous ski destinations around the world.
Maybe your mind turns to Aspen in Colorado or Whistler in British Columbia. Possibly France's famed Chamonix Valley came to mind or perhaps you imagined Switzerland's Zermatt, which sits under the shadow of the Matterhorn.
How about Egypt?
That's right, the land of the pharaohs – more famed for its pyramids, low-lying Nile River Delta and Arab Spring revolution – is hoping to attract powder hounds from around the world to its newest ski hill. But unlike Aspen – or for that matter the small resorts in the nearby Atlas Mountains of Algeria and Morocco – it is possible to ski in Egypt all year long.
Housed inside the newly opened $700 million, 1.8 million-square-foot Mall of Egypt on the outskirts of Cairo is Ski Egypt -- Africa's first man-made indoor ski slope.
Working off the success of their ski slope inside the Mall of Emirates in Dubai, developer Majid Al Futaim Group is hoping that the Egyptian ski slope will be one of the anchors that draw customers from all over the Arab world's most populous nation to the new shopping and entertainment center.
"With a variety of activities from extreme sports to beginner lessons to simply relaxing in a snow-filled environment with friends, this is the ultimate venue in Egypt," the Mall of Egypt said in a statement. "Complete with real snow, chairlifts, sleds and snowmen, Ski Egypt provides an amazing backdrop to enhance the joy of skiing, snowboarding, as well as a range of other refreshing winter sports and activities."
Along with the ski slopes, 350 local and international retailers will call the mall home, as will a movie theater featuring 21 different screens and two family entertainment centers: Magic Planet and Little Explorer.
Many companies have for years been hesitant to invest any capital into Egypt given the country's shaky political situation following the Arab Spring revolution and fluctuations in the country's pound. But that appears to be changing.
"I'm not worried about falling disposable income because for a number of years Egypt has had an official economy that was sustained by a gray one," the Dubai-based developer's chief executive, Alain Bejjani, said in an interview with Bloomberg. "The current situation is beginning to look positive compared to where things were."
Bejjani added that his company will invest another $600 million to build another mega-mall in Cairo and make another shopping center five times bigger.
Majid Al Futaim's faith in Egypt -- and the group's belief that tourism will once again become a major part of Egypt's economy -- seems to be contagious.
Nestle SA, Mars and Turkey's BIM have all upped their investments in the North African nation. Saudi developer Fawaz Alhokair Group, whose Mall of Arabia stands just a few miles away from Egypt's ski slope, is looking to invest $441 million to put together three shopping centers over the next three years.
While there are still concerns about the health of Egypt's economy – only a few months after the country received a $12 billion IMF loan, inflation is at the highest it has been in three decades and 27 percent of the country lives below the poverty line – investors are still thinking positively about the country.
"As far as I can see, Egypt will continue to be considered a high growth engine for multinationals and local companies," said Yasser Abdul Malak, CEO of Nestle's Northeast Africa unit.
But with a trip to Ski Egypt costing a family of four around 1,000 Egyptian pounds (about $55) and the monthly wage of most government and public sector workers coming in at 1,200 pounds (around $66), it is still to be seen whether the country's ski slopes will deliver the goods or become an economic avalanche.