EasyJet passengers filmed fighting after woman allegedly gives in-flight lap dances while intoxicated
Footage has emerged of several rowdy EasyJet passengers in the midst of a heated confrontation on a flight from Luton, England, to the Spanish island of Ibiza earlier this month.
The incident, which took place on Aug. 2, reportedly started after an intoxicated woman began giving lap dances to male passengers seated near the front of the aircraft, and flashing her breasts as well.
WOMAN CLAIMS UNITED PAID HER $75 IN 'HUSH MONEY' AFTER MAN MASTURBATED NEXT TO HER FOR 'HOURS'
"We got on the plane and her friends were all seated at the back, and she was at the front amongst guys who were giving her more drink," a passenger identified as Josh, who also filmed the altercation, told Unilad.
"She was up lap-dancing on them and she got her boobs out, and she was a mess the whole time. She was also doing cartwheels down the aisle of the plane while we were flying along," he said.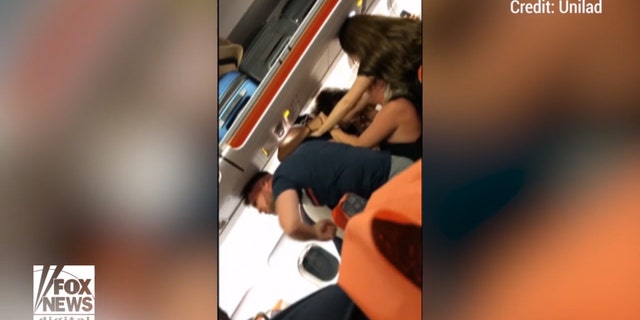 Josh added that the passengers began to get "fed up" with the woman as the plane prepared to land, at which point she began "tapping people's heads" as her friend tried to escort her back to her seat.
One woman, whom Josh identified as the blonde passenger who remained seated in the video, reportedly slapped the woman's hand away, leading to a fight.
RARE OCCURRENCE HAPPENS TO 1 IN 50 AIRLINE PASSENGERS, SURVEY SAYS
In Josh's footage, a brunette can be seen attempting to slap and punch a group of women, while a bearded man — whom Josh identified as the blonde's boyfriend — attempted to protect the women.
At one point, another male passenger grabs the rowdy brunette, looks her in the face, and asks, "What are you doing?"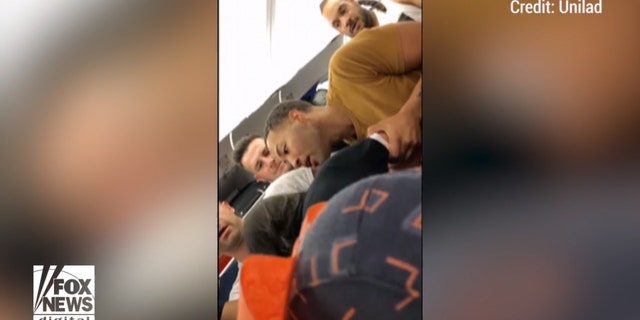 It is unclear if the brunette in the footage is the same woman who was allegedly giving lap dances earlier in the flight.
FOLLOW US ON FACEBOOK FOR MORE FOX LIFESTYLE NEWS
Upon landing, Josh said a woman was escorted off the plane in handcuffs. The airline has since confirmed that "a group of passengers" was actually escorted off the plane.
"EasyJet can confirm that a group of passengers were escorted off flight EZY2095 from Luton to Ibiza on 2 August by the police on arrival as a result of behaving in a disruptive manner," reads a statement obtained by Fox News.
"The safety and welfare of our passengers and crew is EasyJet's highest priority. EasyJet's crew are trained to assess and evaluate all incidents.
"Whilst such incidents are rare, we take them very seriously do not tolerate abusive or threatening behaviour onboard and always push for prosecution."