Does this seat make my butt look big? Airlines shrink legroom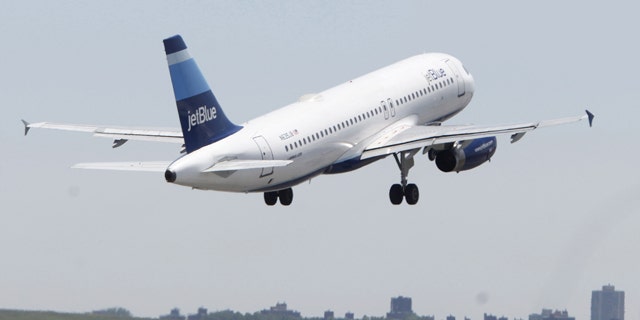 Get ready for a tighter squeeze on your next flight.
JetBlue, once known for promoting extra legroom, is the latest airline to shrink the size of non-premium seats to make room for more rows. It also allows the carrier to make more room for those willing to pay extra for space to stretch their legs.
"As air travel has become more uncomfortable and crowded, airlines have figured out that some passengers are willing to pay for more personal space, and the airlines are hungry for extra revenue," explains George Hobica, editor or AirfareWatchdog.com.
The New York-based carrier is cutting leg distance from 33 inches to 32 inches in nearly a dozen rows on 53 of its planes. The extra inch adds up to two more rows of seats near the front of the cabin, where first class fliers get 38 inches of legroom.
Canadian carrier WestJet is also cramming passengers into smaller seats. That airline, which started a Toronto-to-New York route in June, will shrink most coach seats to 31 or 32 inches.
Earlier this year, Southwest announced similar legroom changes, with some seats moving about an inch closer together -- to 31 inches. Super discount flier Spirit Airlines has legroom as short as 28 inches in some rows.
Hobica told FoxNews.com that JetBlue will still offer more legroom than some carriers, but adds that knee space isn't the only comfort airlines are doing away with.
"Seats are not just moving closer together; they're also becoming thinner as airlines attempt to reduce the weight of their planes to save on fuel costs."
As airlines are shrinking seats, they're also cutting down on trips. Scheduled flights in North America are at their lowest levels in a decade, according to the aviation intelligence company OAG. OAG estimates there will be 21,401 fewer flights this month than last August.
Fewer flights, higher fares and smaller seats mean bad news for fliers, according to Kate Hanni, founder of FlyersRights.org.
"Passengers can expect less seats, tighter legroom, more hidden fees and less amenities included in their base fare and an overall horrible air travel experience," Hanni tells FoxNews.com. "People see air travel as the 7th circle of hell, and no longer are people flying when they can avoid it."