Disney World's 'Pirates of the Caribbean' attraction reopens without 'Bride Auction' scene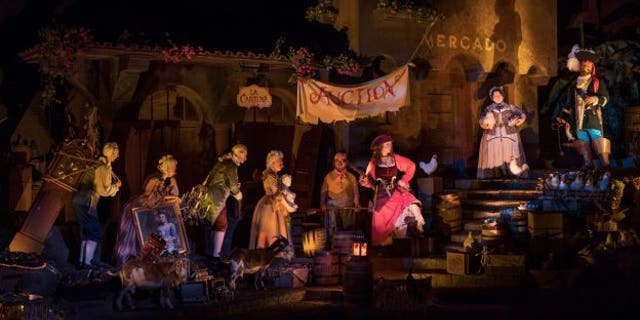 Walt Disney World has finally reopened its popular "Pirates of the Caribbean" attraction — minus the controversial "Bride Auction" sequence.
The scene, which appeared in the "Pirates" rides at Disney World, Disneyland and Disneyland Paris, had originally depicted a group of women bound to an auction block, with a banner reading "Auction: Take a wench for a bride" hanging above their heads. A group of nearby pirates could also be heard requesting the redheaded "wench," who was the most prominently displayed woman on the block.
DISNEY ANNOUNCES OPENING DATE FOR 'TOY STORY LAND'
As of the ride's reopening on March 19, however, the whole scene has been redesigned as a chicken auction, with the auctioneer boasting about the egg-laying capabilities of his hens, the Orlando Sentinel reports.
The animatronic redhead has also been recast as a pirate herself — named Redd — "who's just pillaged the town's rum supply and has something to say about it," according to the Disney Parks Blog.
"Quit your cluckin'," Redd now tells the auctioneer, redirecting her fellow pirates' attention to her own wares, according to footage posted by Attractions Magazine. "The gentlemen wants the rum — dontcha, boys?" she hollers.
Redd will also be holding a rifle in her new role — a far cry from the helpless "wench" of the ride's previous incarnation.
DAD AND DAUGHTER RIDE ALL 49 DISNEY WORLD RIDES IN ONE DAY
"Our team thought long and hard about how to best update this scene," said Kathy Mangum, senior vice president of Walt Disney Imagineering, in a statement to The O.C. Register when the changes were announced in June 2017.
"We think this keeps to the original vision of the attraction as envisioned by Marc Davis, X Atencio and the other Disney legends who first brought this classic to life."
This isn't the first time Disney has modified its "Pirates" rides to become more family-friendly. In 1997, Disney redesigned a scene in which pirates were chasing women, and changed it so the pirates looked to be chasing the women for the trays of food they carried. They had also augmented a scene with Jack Sparrow from the "Pirates of the Caribbean" film franchise.
FOLLOW US ON FACEBOOK FOR MORE FOX LIFESTYLE NEWS
Disney World is the second Disney theme park to rid its "Pirates" ride of the bride action sequence after Disneyland Paris in July. A similar makeover is slated for Disneyland's "Pirates" attraction beginning in April.