Dexter, the emotional support peacock United Airlines wouldn't let fly, dies unexpectedly
Dexter, the emotional support peacock who captured the public's attention when he was denied entry on a United flight earlier this year, died unexpectedly in his "favorite human's arms," his owner announced Tuesday.
The peacock's owner, New York City-based artist Ventiko, revealed on an Instagram account specifically created for Dexter that the peafowl died around 1 p.m. on July 22.
"His passing was sudden and unexpected. Attempts were made to save him, but his doctor confirmed that nothing could have been done to alter his fate," the artist captioned a photo that appears to show a shrine to Dexter.
WIDOW SUES AMERICAN AIRLINES, CLAIMS BAGGAGE HANDLER 'LIED THROUGH HER TEETH' ABOUT LATE HUSBAND
"Dexter defied stereotypes and brought joy and magic to all who encountered him. It was an honor to know him and a privilege to share this life journey with him," she added.
Dexter made headlines in January when United Airlines employees barred the bird from boarding a flight at Newark Liberty International Airport. Ventiko claimed she paid for a second ticket for the peacock, but the airline refused to budge. She said she spent six hours trying to get on her flight to Los Angeles.
Photos of the bizarre scene at the New Jersey airport soon made the rounds on social media, making Dexter one of the most talked-about passengers of the year.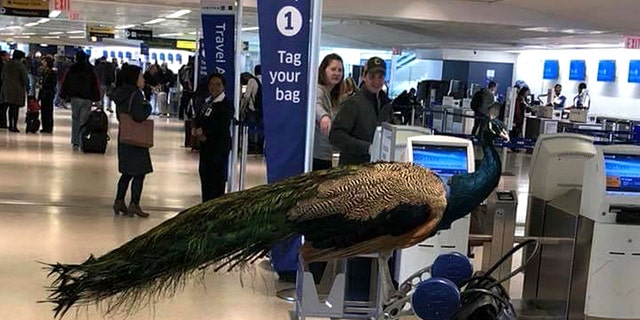 A United spokesperson told Fox News at the time that the peacock "did not meet guidelines for a number of reasons, including its weight and size." The spokesperson added that they explained this to the traveler not once, but three times.
The airline tightened its policy on emotional support animals nearly two months after the incident.
JET2 APOLOGIZES FOR ASKING DISABLED BOY TO PROVE HIS DISABILITY
Ventiko said Tuesday that the peacock remained the same loving pet, despite his rise in popularity.
"He never let fame, adoration or his prodigious number of followers on social media inflate his ego, and he loved working the camera with grace and humility," she wrote. "He is survived by his sisters, Eva (pictured here) and Zsa Zsa, and by all the humans who loved him. Dexter, you will forever be missed and remembered with fondness and love."
PEACOCK KEPT OFF UNITED FLIGHT GETS SPECIAL WEDDING INVITATION
Ventiko and Dexter met in 2014 when the artist saw a Craigslist ad to buy the peacock. She purchased the bird for her Art Basel installation and the duo stuck together when all of Ventiko's housing options for the bird fell through, Vice reported.
Dexter traveled to Brooklyn and lived in the artist's home until his death. He also appeared in several of her works.
Fox News' Janine Puhak contributed to this report.