Delta passenger kicked off flight after using restroom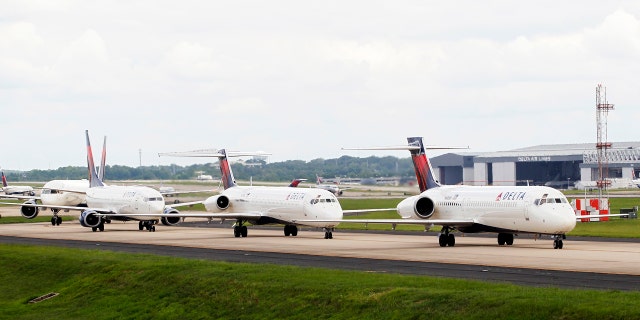 A Milwaukee man was reportedly kicked off a Delta Air Lines flight earlier this month after going to the restroom while the plane waited to takeoff on the runway.
Kima Hamilton was flying from Atlanta's Hartsfield–Jackson International Airport to Milwaukee on April 18. The plane had left the gate and was waiting on the tarmac for about 30 minutes, reports the Milwaukee Journal Sentinel.
As the aircraft was waiting to depart, Hamilton says he realized he urgently needed to use the restroom.
"I don't normally pee right before I get on the plane, and I've never had a problem like this before," Hamilton recalled to the Journal Sentinel. "I don't remember drinking an abnormal amount of water."
THESE AIRLINES HAD THE WORST CUSTOMER SATISFACTION RATINGS IN 2016
He got up to use the bathroom and was reportedly told by a flight attendant that the plane would lose its spot in the takeoff queue if he went inside. But Hamilton couldn't hold it so he quickly relieved himself then went back to his seat.
But the incident wasn't over.
"The pilot came on and said, 'Ladies and gentlemen, I'm sorry for the inconvenience but we have to return to the gate and remove a passenger,' " Hamilton said. "It escalated to that point that fast."
Two Delta employees boarded the plane and approached Hamilton, at which point fellow passenger Krista Rosolino began filming the confrontation.
"I purchased this ticket. I've -- I had an emergency. I had to pee. ... I tried to hold it the first time. ... I absolutely couldn't...and now I'm being kicked off the plane," Hamilton can be heard saying in the clip.
Soon, a second agent approaches Hamilton and tells him that he needs to leave the plane. He eventually complied and was escorted off the aircraft where he was greeted by law enforcement.
"It was already understood and decided that I was a problem and I was getting kicked off the plane. When I exited there were FBI agents waiting for me with Delta personnel," he said.
Grounded by Delta, Hamilton told WDJT he was forced to buy a ticket for a Southwest flight-- at three times the price of his original Delta ticket-- to get home later that evening.
But Hamilton wasn't the only passenger inconvenienced by his bathroom break.
In an open letter to Delta, Rosolino says all passengers on Delta flight 2035 were ordered to deplane, resulting in a significant arrival delay.
FOLLOW US ON FACEBOOK FOR MORE FOX LIFESTYLE NEWS
"Not only did your staff truly harm and humiliate one person who was forced to pay hundreds of dollars for a new same-day flight, but you forced the rest of us passengers to endure a 2 hour saga of watching a man being targeted for having a bathroom emergency," she posted.
She continued, "I am disappointed and horrified at how Delta Airlines staff treated their customers/passengers."
According to U.S. Department of Transportation laws, passengers are required to remain seated after being ordered to do so prior to takeoff. However, when tarmac delays last two or more hours, airlines are required to provide passengers waiting on the tarmac adequate facilities, water or food.
The incident comes amid renewed scrunity of airlines' treatment of passengers after a 69-year-old doctor was removed from his seat on a United Airlines flight and dragged down the aisle of the plane.
Delta released the following statement Wednesday: "Our flight crews are extensively trained to ensure the safety and security of all customers. It is imperative that passengers comply with crew instructions during all phases of flight, especially at the critical points of takeoff and landing."
A representative from Delta Air Lines was not immediately available for comment.