Delta crams dozens of viral Internet hits into new safety video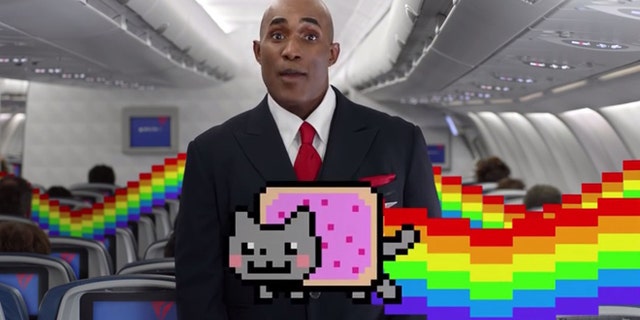 NEWYou can now listen to Fox News articles!
Imagine a smorgasbord of some of the Internet's most popular memes -- including Keyboard Cat, the Screaming Goat and a Harlem Shake dance-off --all in one video.
Delta Airlines has given the people what they really want with its latest safety demonstration video called "The Internetest safety video on the Internet." In just six minutes, the airline managed to cram in 25 cameos of the web's most popular viral video stars and characters from the past few years.
And with more than 4 million views since it was posted to YouTube on May 20 --it's become a viral hit of its own.
The Delta video is a bit offbeat, but it's hard to get through the whole thing without cracking a smile or saying "aww" at least once.
It opens with the ever popular Keyboard Cat—not the original cat Fatso who died in 1987—before going on to the routine safety instructions interspersed with more Internet favorites.
The video, which started airing on Delta flights May 25, was created to celebrate YouTube's 10 year anniversary.
"We had a ton of fun with this one, and we think our customers will, too. Internet fame is fleeting, but our commitment to the safety of our customers and crew is not,' said Mauricio Parise, Delta's director of Worldwide Marketing Communication, stated in a press release.
"These memes and cameos tap into the zeitgeist as the latest way of capturing our customers' attention for our important safety presentation."
If you don't have time to watch the whole thing, check out the full list of timecodes to see where your favorite viral star-- or cartoon cat-- appears.
0:03 Keyboard Cat
0:18 Double Rainbow Guy
0:26 Annoying Orange
0:30 Roomba Cat
0:45 Rahat's Prank
1:05 Evolution of Dance
1:25 Slow Mo Guy
1:43 Harlem Shake
1:51 Deltalina
1:52 Screaming Goat
2:02 Internet Browser
2:23 Peanut Butter Jelly Time
2:31 Dramatic Chipmunk
2:48 Charlie Bit My Finger
3:23 Clicking Finger
3:51 Overly Attached Girlfriend
4:02 Ice Bucket Challenge
4:09 Dancing Baby
4:15 Hamsters Eating Burritos
4:25 Nyan Cat
4:32 Doge
4:48 Mentos & Coke