Cyclist creates 88-mile virtual snowman across London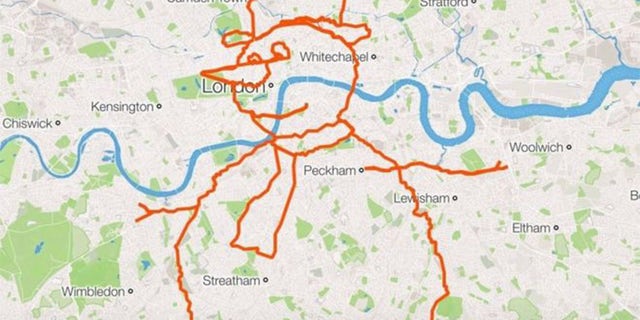 A man in London spent the whole day cycling through the streets of the busy city to craft a giant, very detailed snowman.
Anthony Hoyte, from Cheltenham, used the route mapping app Strava to create the festive larger-than-life image – a feat that took 10 hours.
The 49-year-old cyclist said he "wanted to do something festive," but the snowman, complete with twig arms, scarf, carrot nose and stove-top hat "ended up so big."
PLANE DRAWS CHRISTMAS TREE IN THE SKY ON FESTIVE FLIGHT
Originally, Hoyte came up with the idea last year and carved out the route on paper, but ultimately was unable to cycle the route after he came "down with the lurgy," he told BBC.
But this year he was determined.
"It took 10 hours, I spent the whole day doing it and did it all in one go," he said to BBC. "I had to stop and find public toilets and went the wrong way a few times but it's so big no one's going to notice."
Hoyte has created incredible pieces of artwork with his bicycle before – including one title Fowl Play, which won him first prize in the city's Strava art competition in September.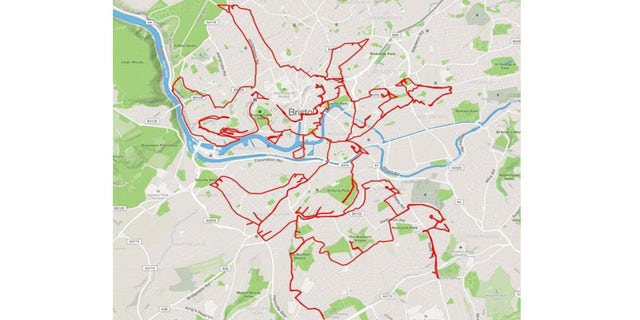 He said he started using the Strava app to create his unique doodles about three years ago.
"I look at the [Strava] map and look for things I can draw. It's like looking at clouds and seeing pictures," he said to BBC.
FOLLOW US ON FACEBOOK FOR MORE FOX LIFESTYLE NEWS
"Ideally you need a place with a high concentration of roads," he said of his picture planning.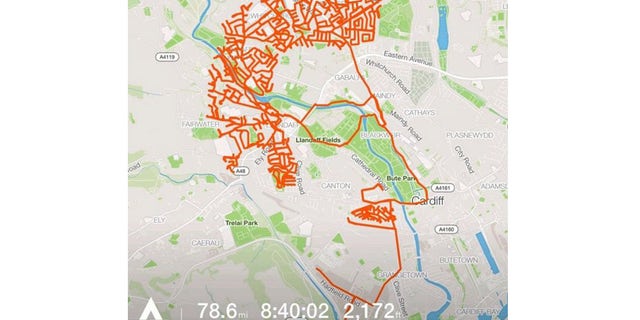 During his years as a cycling artist, Hoyte has created a flock of birds, a face with hair, a pair of elephants and a "not very good" dog – and learned some things along the way.
"But faces are impossible and I've made a note to self: don't do hair again."