Curious about Iowa State Fair's famous Butter Cow? Here's everything you ever wanted to know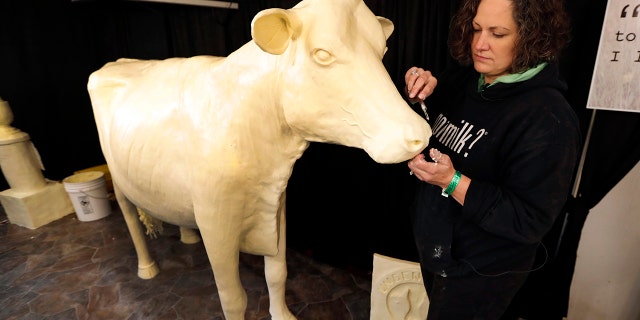 More than 1 million people typically visit the Iowa State Fair each year, and sometimes it seems like every one of them is clustered around the Butter Cow's climate-controlled glass enclosure.
Here are some details about the creamy sculpture that has been an essential part of the fair since 1911.
Why a butter cow?
Butter cow sculptures appeared to have started with the Ohio State Fair in 1903, and the first one was displayed at the Iowa State Fair eight years later as a way to promote dairy products in one of the country's leading agricultural states.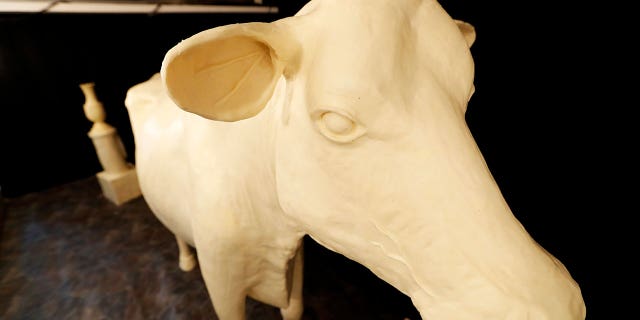 THE MOST DELICIOUS DEEP-FRIED TREATS FROM THIS YEAR'S STATE FAIRS
Is it really made of butter?
It's not solid butter. The core of the cow is composed of a wood, wire and steel mesh frame, and that structure is then layered with about 600 pounds (270 kilograms) of Iowa butter. It's a big sculpture but not as hefty as an actual dairy cow, which typically weighs about 1,000 pounds (450 kilograms).
That seems like a lot of butter to waste.
The state fair estimates it's enough butter for 19,200 slices of toast, but even fairgoers with grumbling stomachs probably wouldn't want to dig into the sculpture. Most of the butter is reused from year to year, and some of it is up to a decade old.
MARGARINE SALES SLIPPING AS CUSTOMERS CHURN BACK TO BUTTER
Given Iowa's steamy August heat, does the cow melt?
Fairgoers often swelter in the heat and humidity, but the Butter Cow looks out of a glass enclosure kept at a chilly 40 degrees (4.4 Celsius).
Who does the sculpting, and does the cow have company?
Sarah Pratt, of West Des Moines, has been forming the cow and other buttery creations since 2006, making her only the fifth sculptor in 106 years. This year, she's also creating of sculpture of Laura Ingalls Wilder in honor of the "Little House on the Prairie" author's 150th birthday, as well as a replica of the Solheim Cup trophy, awarded to the winners of a golf tournament held this summer in Iowa. Previous sculptures have included Elvis Presley, John Wayne and Leonardo DaVinci's "The Last Supper."
FOLLOW US ON FACEBOOK FOR MORE FOX LIFESTYLE NEWS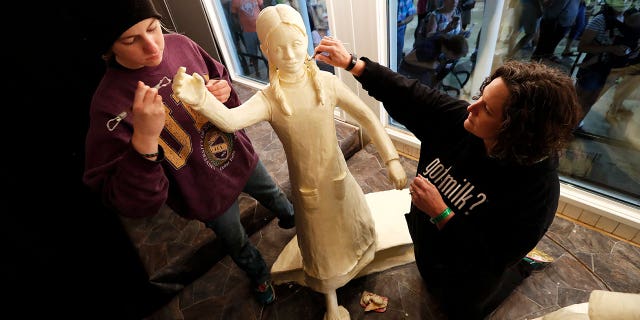 Do other states have butter sculptures?
Yes. They're particularly popular in the Midwest, with sculptures in Illinois, Minnesota, Missouri and Wisconsin. They're also a part of state fairs in other regions, including New York, Texas and Utah. Not all are of cows, though. The Minnesota State Fair's sculptures are especially beloved, as each year a dairy association's Princess Kay of the Milky Way and her court have their likenesses carved into 90-pound (40 kilogram) butter blocks.