Couple criticized for pulling 'stupid' stunt in Saint Martin one year after woman dies on same beach
NEWYou can now listen to Fox News articles!
An acrobatic couple have been criticized for performing a one-handed headstand inches away from a cargo plane on a beach infamous for low-flying jets.
Performers Oleg Kolisnichenko, 36, and Yuliia Nos, 25, appear to be just feet away from the aircraft in the daring snap on Maho Beach, on the Caribbean island of Saint Martin. The duo, who have been performing together for three years, were keen to take the souvenir snap having just reached the end of a cruise.
But despite the impressive timing, the stunt was met with criticism rather than praise from social media users.
TOURIST IN SAINT MARTIN KILLED BY FORCEFUL BLAST FROM NEARBY JET
"We absolutely love acrobatics and we like to have fun with it outside of work," said daredevil Nos, from Kiev, Ukraine.
"The beach really is dangerous yet exciting at the same time. A lot of people were taking pictures with a plane above their heads but we had some idea to make something cool," she said.
"After a few tries, we managed to perform it as the plane arrived, but we didn't expect it to be so big and so close to us.
"It didn't touch my feet but I felt so much air from the plane and I lost my balance. It was so much fun and exciting but it was only after I realized how dangerous it was."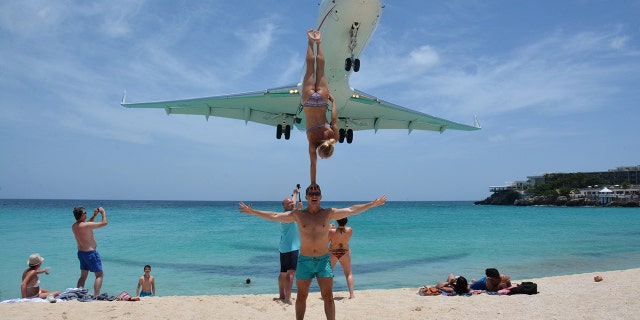 The well-timed snap, taken last month, has since been criticized by those on social media, not only because the stunt was risking their lives, but the lives of hundreds of others.
WHY TOURISTS FLOCK TO PARADISE… TO GET BLOWN AWAY BY PLANES
One Instagram user wrote: "Extremely stupid. When the plane hits her foot she will actually never walk again. What a stupid move."
"Do not ever do that again," said another. "Please. Not only risking your life but also hundreds of others."
Another simply quipped, "Stupidity at its finest."
Each year thousands of tourists flock to Maho Beach to watch planes fly in and out of Princess Juliana International Airport. The beach is unusually close to the runway, and directly under the flight path of aircrafts passing just 30 meters above ground.
FOLLOW US ON FACEBOOK FOR MORE FOX LIFESTYLE NEWS
Last year, a 57-year-old New Zealand tourist died after being blown back and suffering serious head injuries from a jet blast. And despite local authorities warning the public not to stand in the path of such blasts of departing aircraft — for fear of death and/or serious injury — many still hold onto the fence separating the beach and the runway.