Cobalt Air's sudden closure ruins couple's dream wedding, costing them nearly $6,000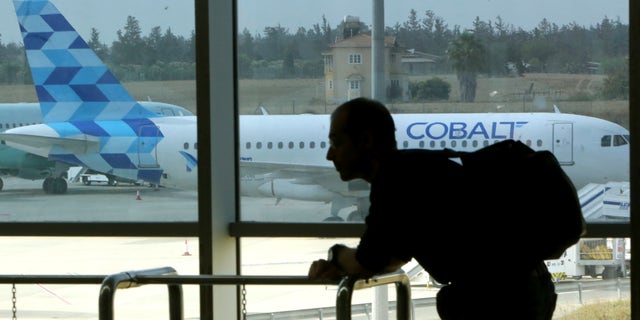 A couple has been left almost $5,900 out of pocket after their dream wedding in Cyprus was ruined when Cobalt Airlines folded overnight.
Sarah Allen and fiancé David Bingham had spent months planning the destination wedding, organizing flights for a small group of friends and family to be with them for the big day. The couple jetted out to Cyprus last week to start preparing for their October 23 ceremony – but have been left in tears after finding out their guests' flights were canceled.
Speaking to the Sun Online, Sarah, 51, said: "As we were going to bed last night, we got an email saying your flight has been canceled.
SOUTHWEST FLIGHT MAKES EMERGENCY LANDING AFTER PASSENGER ALLEGEDLY PLAYS UNWANTED GAME OF 'FOOTSIE'
"It was only when I googled Cobalt that I saw the news they had gone into receivership."
Cash-strapped Cypriot carrier Cobalt – which flies thousands of vacationers to the Mediterranean every year – went bust today, leaving thousands of Brits stranded.
Sarah said she and David, of Southampton, England, had been up all night, desperately trying to book flights to make sure her family could be by her side.
The couple eventually managed to book the flights for their seven friends and family members, with it costing almost $5,900 to rebook with a new airline – doubling the cost of their wedding.
She said: "We thought it would be easier and less stress getting married abroad but it's a nightmare. It's supposed to be the happiest day of your life and you end up with all this stress and worry. I was crying earlier, I'm so tired and we haven't been able to sleep."
EMIRATES FLIGHT ATTENDANT ACCUSED OF STEALING $5,000 FROM PASSENGERS ATTENDING TO ILL FATHER
Sarah said she had been looking forward to a relaxing break with her family after having a cancer scare earlier this year and losing her mother in September.
The bride slammed the airline, saying that there had been no support.
She said: "It's disgusting, there's been no support. All I wanted was for my family to spend some time together, and this has ruined it."
All routes were suspended from midnight — including those serving London Heathrow, Stansted and Gatwick.
The firm said in a shocking statement yesterday evening: "Cobalt regrets to announce that it will be canceling all flights as of 23:50pm on October 17, 2018 due to indefinite suspension of Cobalt's operations.
"As a result, future flights or services provided by Cobalt will be canceled and will no longer operate. Passengers who have un-flown tickets are instructed not to go to Larnaca Airport or any departure airport tomorrow, 18 October 2018 as no Cobalt flights will operate and no Cobalt staff will be present. For refunds, please contact your credit card provider or Travel Agent."
FOLLOW US ON FACEBOOK FOR MORE FOX LIFESTYLE NEWS
"We sincerely apologize once again and would like to thank our very loyal customers for their support over the last two years of Cobalt operations."
The airline had reportedly failed to secure a last-minute lifeline investment and was left with only $16.9 million on its books.
This article originally appeared in The Sun. Read more content from The Sun here.