Carnival Cruise Line confirms guest went overboard after climbing railing of Carnival Fantasy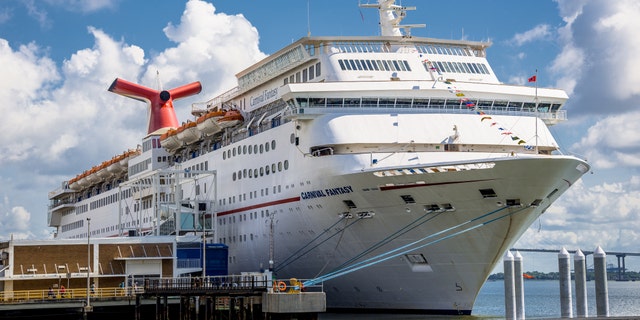 NEWYou can now listen to Fox News articles!
Carnival Cruise Line has confirmed that the passenger who went missing from the Carnival Fantasy on Sunday went overboard after climbing a deck railing.
"Carnival Cruise Line regrets to report that the 22-year-old male guest with autism who was missing on Carnival Fantasy went overboard after climbing over the deck rail. His family believes he may have been under the mistaken assumption that he was going swimming," the cruise line said in a statement.
"Everyone at Carnival is deeply saddened and our thoughts and prayers are with the guest's family and friends. Our Care Team is providing assistance and support to his family and traveling companions. The guest's family has requested privacy."
Carnival added that it would not be providing further details or information about the incident.
The cruise line had previously released a statement confirming the guest went missing on Sunday evening while the ship was en route to Progreso, Mexico. The passenger was said to be part of a group of nine, traveling with three chaperones. "He ran without warning out of the stateroom, and after his chaperone was unsuccessful in locating him, the chaperone notified the ship's crew," the previous statement read.
"Once notified that the guest was missing, the ship's crew followed all protocols, including onboard announcements and a ship-wide search. The security team reviewed closed circuit television footage of the ship's perimeter multiple times. While in port in Progreso on Monday, the Mexican Navy provided a search-and-rescue canine to assist in the search, but there was not any conclusive result as to his whereabouts. All relevant authorities have been notified."
Carnival Fantasy is currently on a five-day cruise that departed Mobile, Ala., on Saturday.
The ship had originally left for a five-night cruise to Cozumel, Mexico. The ship departed from Progreso at its scheduled time on Monday.
NORWEGIAN CRUISE LINE SHIP LEAVES COUPLE STRANDED IN CUBA AFTER DEPARTING EARLY
News of the missing passenger follows a similar incident from Dec. 14, during which Carnival Cruise guest Thomas McElhany went overboard approximately 35 miles south of Islamorada, Fla., during the Victory's trip back to Miami after a four-night cruise that made stops in Key West and Cozumel.
The United States Coast Guard suspended its search on Dec. 16 for the 26-year-old passenger. The previous day, representatives for the cruise line told Fox News that "the facts surrounding this unfortunate incident indicate it was an intentional act."