Capital Airlines passengers terrified over midair drop: 'I don't want to die'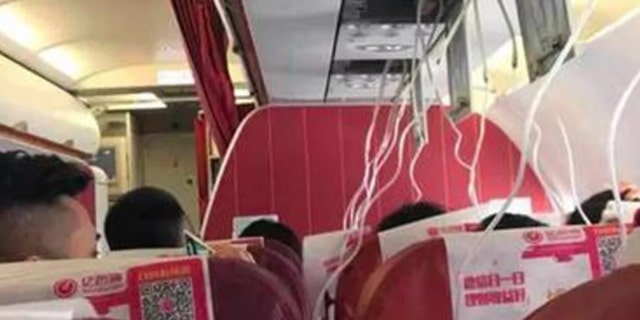 Passengers on a Capital Airlines flight to eastern China feared for their lives Sunday when the plane experienced mechanical problems, causing it to rapidly lose altitude.
Flight JD5158 from Kunming, Yunnan province, to Hangzhou, Zhejiang province, had been traveling for about 20 minutes when the captain announced the cabin was losing pressure and oxygen masks would be deployed, South China Morning Post reported.
FLORIDA RESTAURANT NO LONGER ALLOWS 'MONKEY MONDAYS' AFTER ANIMAL BIT 8-YEAR-OLD BOY
One of the 146 passengers on board told the Qianjiang Evening News he was afraid he might die when he felt a "strong loss of gravity" and saw and smelled smoke in the cabin.
"I am only in my 30s and I don't want to die. Even if I had to die, please don't let anything bad happen to my son," he said he was thinking during the scary experience.
Another passenger wrote a note to her parents in case she didn't survive. "I have never had such an experience and I literally thought we were going to crash," the woman said. "I switched on my mobile phone and wrote to my parents about how sorry I would be if I didn't survive," she said, per the Post.
FOLLOW US ON FACEBOOK FOR MORE FOX LIFESTYLE NEWS
The plane was forced to turn around and return to the Kunming airport, where it landed safely around 3:30 p.m. No one was injured and the aircraft was being repaired, the Post reported.