Best spring trips for 2015
Take a break from the ordinary this spring by zipping through the Japan Alps on a bullet train or boating past brightly blooming Dutch tulip fields. From urban escapes to outdoors adventures, our editor's list of the ten best spring trips to take this year—plus one reader's choice—is filled with off-the-beaten-path options.
1. Take a Wildflower Hike in Joshua Tree National Park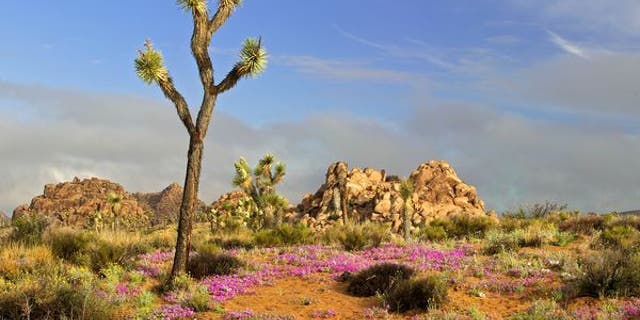 Twentynine Palms, California
Due to its rich and varied flora, Desert Plants was the initial name suggested for Joshua Tree National Park. Over 750 plant species have been documented in the 794,000-acre park. The amazing diversity is due to an ecosystem trifecta: Sections of the Mojave Desert, the Colorado Desert, and the Little San Bernardino Mountains are all located within Joshua Tree's vast desert landscape. March through May, blossoms burst into color at various times and places throughout the park. What you'll see—yellow desert dandelions, fiery red ocotillo flowers, clusters of creamy-white flowers sprouting from Joshua trees—depends on when and where you visit. According to lead park ranger David Denslow, a favorite area for spring wildflowers is the Bajada Nature Trail on the park's southern border. In March, this quarter-mile trail "usually catches the first blooms to hit the park," he says. It's also one of four wheelchair-accessible trails and is easy to walk. Check the park's weekly Wildflower Bloom Report (posted February through early May) to plan your trip. Park entrance fees ($15 per vehicle) are waived April 18-19, opening weekend of National Park Week.
2. Indulge in a Foodie Fest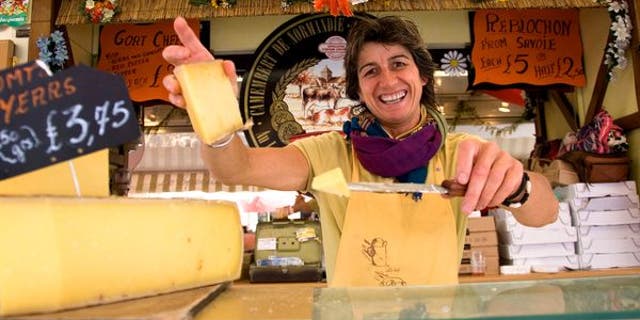 Malton, North Yorkshire, England
Billed as Yorkshire's Food Capital, the classic Yorkshire market town of Malton is gaining steam as a year-round tourist destination for foodies. "I think what appeals to visitors about Malton is that it's still a real working town with the most superb produce on its doorstep," says Tom Naylor-Leyland, director of the Talbot Hotel and Malton Cookery School. "[We have] game from the moors, shellfish from the coast, rare-breed cattle and pigs, great cheeses and breads, and wonderful baking." Visitors, he says, can sip and taste their way around town before collapsing into a warm bed. Spring highlights include the Malton Monthly Food Market and the annual Food Lovers Festival, May 23-24, featuring over 160 food stalls, famous chefs, and, new for 2015, a night market. Cooking and baking classes at the Malton Cookery School are open to visitors too. Register in advance to save a spot in the kitchen.
3. Go Whisper Boating Through the Tulip Fields
Lisse, Holland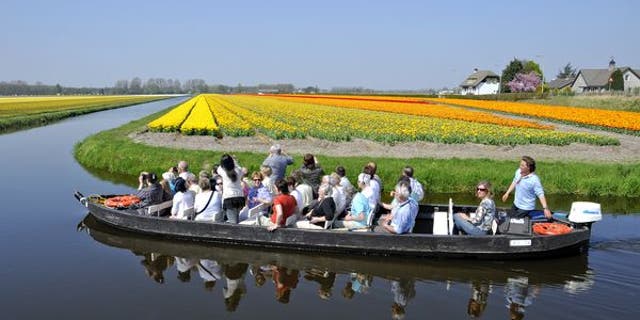 From mid-April until the first week in May, millions of hand-planted tulips, hyacinths, and other spring annuals burst into bloom at Lisse's world-famous Keukenhof. Known as the "garden of Europe," the 79-acre park is only open March 20 to May 17. Mid-season is typically a prime time to see the landscape blanketed in a quilt-like rainbow of colors. Nine miles of walking paths wind through the gardens and exhibits. To capture up-close photos of the tulips in the surrounding bulb fields, take a 45-minute ride aboard one of Keukenhof's whisper boats, flat vessels named for their virtually silent motors. The electric-powered boats glide along shallow canals and provide field-level flower views that are available only from the water.
4. Celebrate the 1,000 Years of Leipzig Festival Week, May 31-June 7
Leipzig, Germany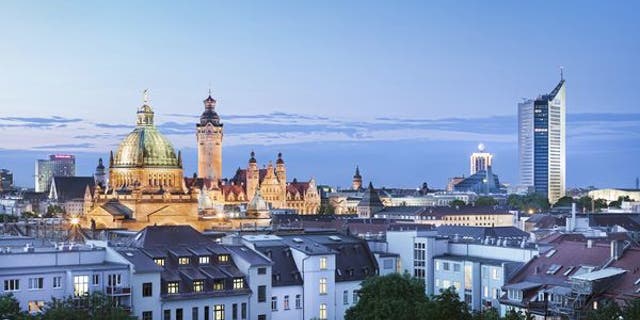 Leipzig hits some monumental milestones this year, including a thousand years of history (it was first documented in 1015), 850 years as a city, and the 25th anniversary of German reunification. To celebrate, the former East German cultural and economic hub is hosting the 1,000 years of Leipzig Festival Week (May 31-June 7), a highlight of the city's year-long We Are the City campaign to promote wider awareness of Leipzig's past and present. The festival kicks off with the multisensory Lipsia's Lions Street Theatre Festival on May 31. Combining music, dance, theater, and conceptual art, this performance event moves through the city in five separate processions, each led by an oversize, people-powered puppet. Join one of the parades, which converge at the historic city center Marktplatz (market square) to meet and march with the locals. "Leipzigers welcome guests of the city with open arms," says Ina Thyrolf, franchise partner for Leipzig's eat-the-world culinary and food tours. She explains that "locals are known to like it gemütlich" (pronounced guh-myoot-lish), which roughly translates to cozy and comfortable. "That's just one of the many reasons to discover the city," she adds. Festival Week also includes an outdoor concert (June 6) of Mendelssohn's "Hymn of Praise" performed by the Leipzig Gewandhaus Orchestra and a thousand singers at the 43,500-seat Red Bull Arena.
5. Ride Japan's Newest Bullet Train Line
Tokyo to Hokuriku, Japan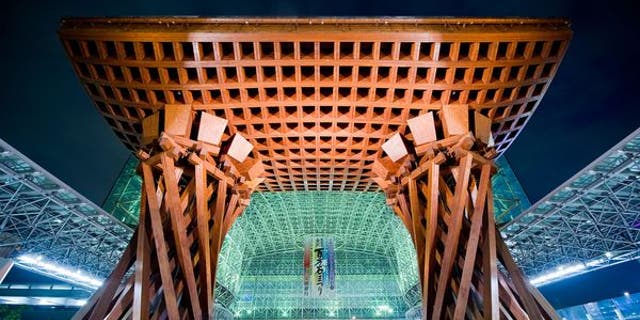 Be among the first to ride the 281-mile-long Hokuriku Shinkansen bullet-train line connecting Tokyo and Kanazawa, a UNESCO City of Crafts and Folk Art. The new service launches March 14 and extends the existing Tokyo-to-Nagano high-speed railway line west by 143 miles. Sleek bullet trains whisk passengers at speeds of up to 160 miles an hour between Tokyo and Kanazawa in about two and a half hours (one-way). The trip includes spectacular views when crossing through the Japan Alps and along the Sea of Japan. Located on the less visited north-central coast of Honshu, Japan's main island, Kanazawa and the surrounding Hokuriku region harbor a wealth of natural and cultural treasures, including national parks and natural hot springs, traditional Japanese art and crafts such as lacquerware and gold leaf, samurai and geisha heritage districts, castles and ancient ruins, and historic farming and fishing villages.
Check out more of the best spring trips to take this year.
See more from National Geographic.
Top 10 Activities Along Ireland's Wild Atlantic Way
Top 10 Ireland and Northern Ireland: Food and Drink