Best New York area mountains for day skiers
Feel the need for downhill speed but tight on time?
Upstate New York is home to some of best East coast slopes, and if you're in the New York metro area you can easily take advantage of great skiing without sacrificing an entire weekend. No need to spend hours driving to that far-away summit when you can catch a train or take a quick drive up to one of these nearby mountain hot spots.
FoxNews.com's picks are all just around two hours from Manhattan, making these peaks the best choices for day skiers and snowboarders. With great deals all season long, one of these mountains might just become your favorite go-to winter destination.
1. Hunter Mountain: Hunter N.Y.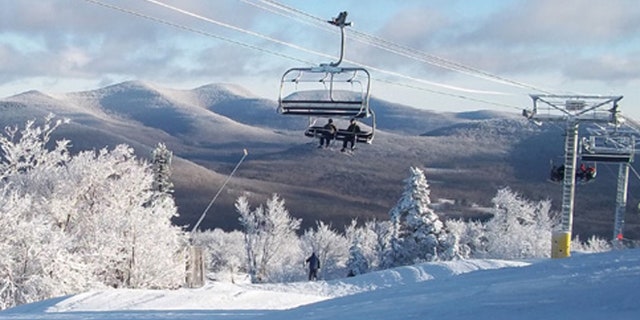 Whether you want to ski, snow tube, shop or spa, Hunter Mountain has something fun for your effortless winter getaway. After a quick two-hour ride by bus or car, 56 snowy trails welcome you to polar paradise.
Hunter Mountain's Snowsports School is now open for all levels of instruction. Novice skiers and snowboarders can take advantage of Hunter's Beginner Try-Pak. For just $109, guests receive equipment rental, lift ticket and a group lesson valid for three separate trips throughout the season. Other deals include large group discounts and up to 30 percent off lessons, rentals and lift tickets when purchased online.
2. Windham Mountain Resort: Windham, N.Y.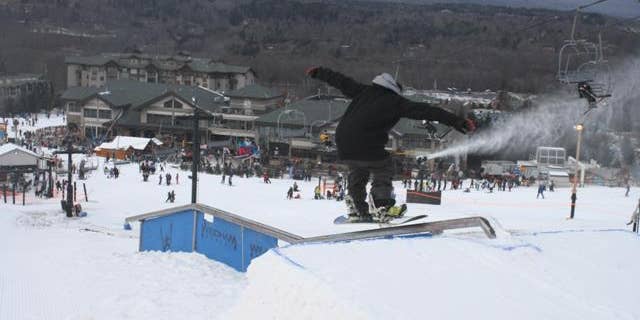 With over 50 trails at varying degrees of difficulty, and 12 state-of-the-art lifts to get you right to the top, Windham Mountain is the perfect destination for those who crave choices during their speedy winter sports getaways. A little over two hours from the city, this ski area is the biggest in the Catskills region that offers night skiing for guests.
Even if you don't have a car, getting to Windham is a cinch. The resort offers several bus packages that leave daily from convenient Manhattan locations. There's also Amtrak service operating daily between Penn Station and Hudson, N.Y., just a 40-minute drive from Windham.
For snowboarders looking to get some air, Windham has five terrain parks with enough jumps, boxes and rails to excite any seasoned X Game fanatic. Whether you want to ski all season or just get a few days on the slopes, everyone can save 10 percent by purchasing lift tickets online.
3. Mountain Creek Resort: Vernon, N.J.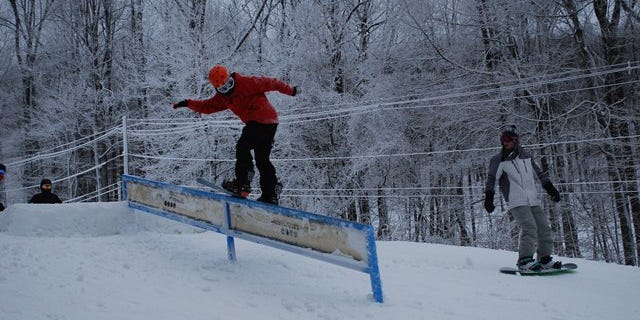 This Jersey area ski haven is just over an hour from New York City making it one of the most convenient places to get in a few runs after work. Mountain Creek Resort offers trails over 167 skiable acres. Extreme boarders will flock to the All-Mountain Terrain Park at South at Bear Peaks, voted as a Top 5 Park in the nation in Freeskier's 2012 Resort Poll.
If you're looking for a one-of-a-kind thrill ride, check out the resort's Alpine Mountain Coaster. Whether you want to ride alone or with a friend, passengers control the speed of their own cart as they twist and turn through snowy terrain. This brand new attraction was just added to the park last year.
4. Thunder Ridge Ski Area: Patterson, N.Y.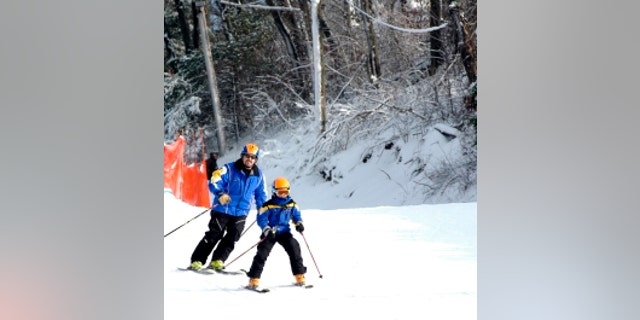 Located just 60 minutes from New York City, Thunder Ridge is an ideal getaway for those with little time to spare. Hop on the Metro-North's Harlem Line at Grand Central Terminal and get a lift on the free ski shuttle that takes guests to and from the Patterson, N.Y., train station.
This winter, new skiers can take advantage of Thunder Ridge's Seasonal Lesson Programs, which are offered at a special rate. Continuity is key to boosting your skills on the slopes, and the 6-week training course provides a state-of-the-art learning environment with seasoned instructors.
For the younger set, Thunder Ridge is now offering a supervised half-day ski school for kids ages 6 to 9 on weekends and holidays. In the mood for a fabulously family friendly deal? Thunder Ridge is participating in the ISKI NY Free for Kids program, which lets 3rd graders ski for free when accompanied by a paying adult.
5. Catamount Ski Area: Hillsdale, N.Y.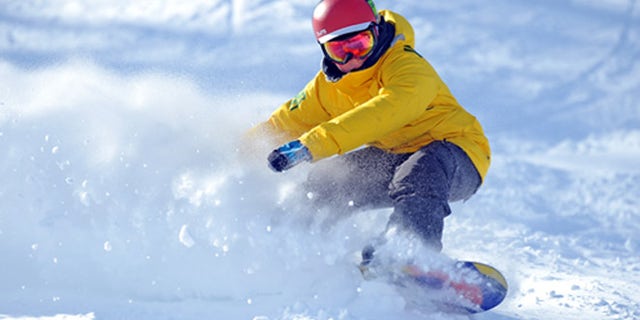 Since 1939, Catamount has been operated by families for families. This Berkshire mountain hideaway is home to 34 trails over 130 skiable acres.
There are a variety of special ski packages, for first-timers up to the most advanced levels. Women's Wednesday is back this year, offering exclusive lessons for women, taught by women. Breakfast and lunch are included, and with deals starting at just $57 for the day, who wouldn't be up for a little female bonding? Advanced junior skiers can take their sport to the next level with Catamount's unique Adventure program, which offers a non-traditional approach to improving all ski skills for $275.
Catamount is located just a few minutes from Great Barrington, Mass., which was recently voted as one of the Top 20 Small Towns in America by Smithsonian Magazine. Dining options feature everything from Asian to Italian cuisine and the Zagat-rated Castle Street Café. Sounds like a perfect way to end a day at the slopes.
6. Camelback Mountain Resort: Tannersville, Pa.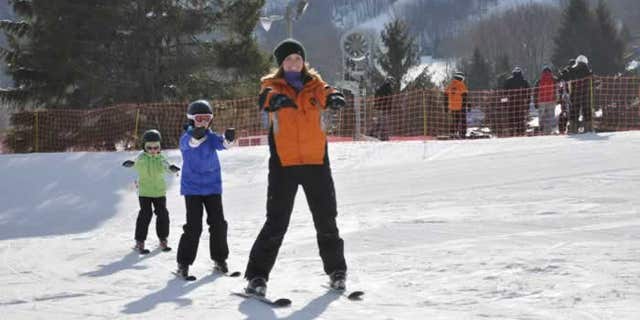 Pennsylvania has a ton of winter ski areas but Camelback in Tannersville is one of the largest with 34 trails over 166 acres. Skiers and boarders of all backgrounds will enjoy the various terrain options at Camelback. The resort is just an hour and a half away from New York City so you'll be on the slopes in no time.
Frequent skiers can take advantage of Camelback's Camel Card for only $49. Every 4th lift ticket is absolutely free plus you'll get deep discounts on weekends and 50 percent off non-holiday and twilight lift tickets. Purchase a Camel Card for yourself or a friend but keep in mind this deal ends Dec. 22.
7. Woodbury Ski Area: Woodbury, Conn.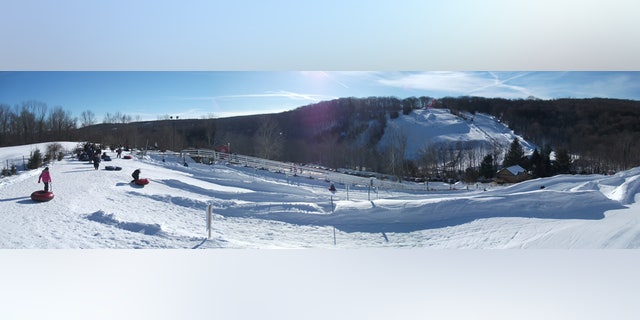 Woodbury Ski Area is just under two hours from the heart of Manhattan. Their prolific snow machine keeps the fun going all winter long. In October, Woodbury was one of the first parks open for the 2013-2014 ski season and there's still plenty of winter fun to be had here. Up for a little late night action? Woodbury keeps their trails lit until 10 PM every night.
This year, Woodbury is running two intensive day camps for skiers of all abilities. From Dec. 26-29,2013 and Feb. 22-25, 2014, skiers or snowboarders can improve their skills for packages starting as low at $149 for ten hours of instruction.
Athletes seeking to push themselves will love Woodbury state-of-the-art racing terrain. Training and timed trials are available upon request. Keep in mind that these steep hills are lauded as some of the best in Connecticut.
8. Tuxedo Ridge Ski Center: Tuxedo Park, N.Y.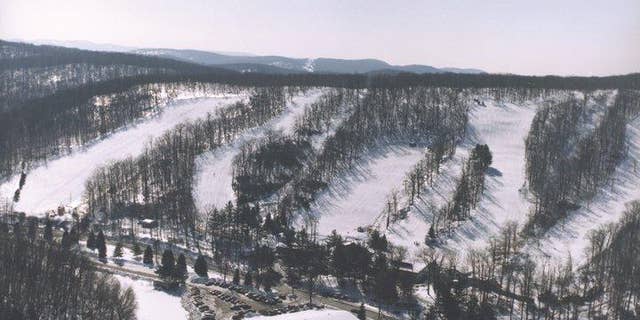 Tuxedo Ridge is one of the smallest New York ski areas with seven trails - plus a newly redesigned bunny slope. But at just over an hour from Manhattan, the convenience of this little mountain can't be beat.
This Hudson Valley winter hangout offers night skiing on all trails for those looking to hit the powder after work. Despite its relatively small size, Tuxedo Ridge features a state-of-the-art equipment rental center and three dining areas.
Not into skiing or boarding? Check out the snow tubing area. Starting at $15 an hour, this might be best thrill ride all winter. For kids' parties and events, discounted group rates are available foreager tubers.