Amtrak forced woman to remove 'Love trumps hate' button before boarding train, passenger claims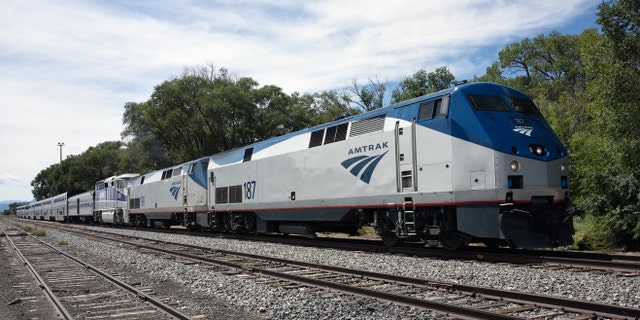 Amtrak has found itself in the middle of a political controversy after an employee allegedly told a passenger she had to remove her pin.
Melissa Stone was boarding a train traveling to Seattle from Chicago on Friday afternoon with her partner, Chase McClure. The pair were making the 45-hour trip to Washington to celebrate their 10th anniversary.
But when Stone tried to board, an Amtrak employee stopped her and asked her to remove her "Love trumps hate" pin before getting on the train, she claims.
DUNKIN' DONUTS TO BE SERVED ON ALL AMTRAK NORTHEAST REGIONAL TRAINS
Stone and McClure told DNAinfo they initially thought the female employee was joking with them.
"When she said it, I was stunned and thought she misunderstood the pin," McClure told DNAinfo. "She explained that this is policy from Amtrak to the attendants to prevent friction between passengers."
In her post on Twitter, Stone said the employee told her the railway is "federally funded" and therefore couldn't allow her to wear the political pin.
Shortly after Stone posted about the incident on social media, the couple reached out to Amtrak and confirmed with Amtrak's Manager of Onboard Services that there is no policy banning political pins aboard their trains.
Another Amtrak spokesperson, Marc Magliari, said officials reached out to Stone to apologize for what happened, and explain that the employee misunderstood the company's policy prohibiting disruptive passengers.
FOLLOW US ON FACEBOOK FOR MORE FOX LIFESTYLE NEWS
McClure said on Facebook that "if someone inline in front of us was told to remove their MAGA hat, we'd be just as pissed off right now."
It is unclear if the employee will receive disciplinary action.