Amtrak crash: Travelers promised 'shorter trip times and more reliable schedules' on new, doomed route
NEWYou can now listen to Fox News articles!
Monday morning's deadly Amtrak train derailment along a new route hugging Interstate 5 near Tacoma, Wash. is raising serious questions for the future of the Cascades rail line in the Pacific Northwest.
The derailment, which occurred shortly at around 7:30 a.m., comes on the same day that Amtrak expanded its high-speed service to include two new trips between Seattle and Portland. Service between the two cities had been restructured and rerouted to allow for "shorter trip times and more reliable schedules," according to a press release issued by the Washington State Department of Transportation (WSDOT) when the project was approved in 2013.
ATLANTA AIRPORT AFTERMATH: EXPERT SAYS IT COULD BE DAYS BEFORE TRAVELERS CAN FIND OPEN SEATS
A more recent WSDOT press release confirmed that the new routes would shave 10 minutes off the commute times between Seattle and Portland "thanks to the rerouting of trains between Tacoma and Olympia," which is exactly where the derailment occurred. The WSDOT posted a map of the new route, which illustrated how the new Cascades line would take a more inland, straightforward route along Interstate 5, as opposed to hugging the coast.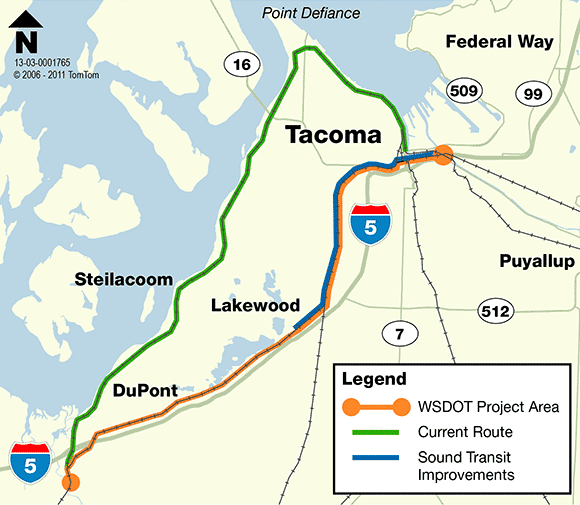 The press release also noted that tracks and signals between the cities were upgraded to accommodate the new route.
Amtrak has confirmed that service south of Seattle is temporarily suspended in the wake of the crash, but wrote that lines north and east of Seattle are continuing to operate.
Amtrak added that it regrets "any inconvenience" these service changes may have for travelers.
FOLLOW US ON FACEBOOK FOR MORE FOX TRAVEL NEWS
Amtrak's 501 from Seattle to Portland was carrying 78 passengers and 5 crew members when it derailed.