All American cowboy: 8 must see rodeos this summer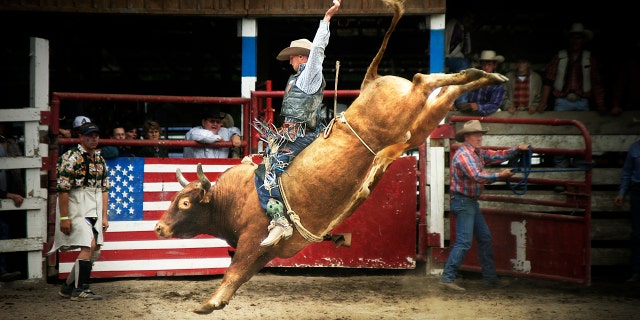 America's first rodeo cowboys might just be rolling over in their 200-year-old graves.
The sport they knew as a backbreaking necessity has since been transformed into a multi-million-dollar entertainment industry. In the 1800s, after Spanish conquistadors introduced horses to the Americas, cattlemen adopted rodeos as a means of sorting and rounding up their herds.
Today, the open range has been replaced by cities and suburbia and many rodeos are held in larger than life stadiums. Still, the rodeo tradition has survived, attracting upwards of 50,000 fans at its biggest events across the country.
From a small-town rodeo where admission used to be $.90 to a 10-day event with more than $3 million in prize money, here are eight rodeos worth dusting off your cowboy hat for this summer.
1. Cody Nite Rodeo – June 1 – August 31, Cody, Wyo.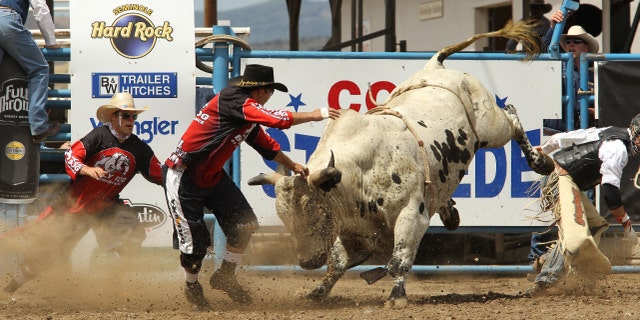 Most rodeos take place on the weekends but Cody Nite Rodeo is a nightly affair. Every night from June 1 - August 31, locals and visitors celebrate Cody's rich rodeo heritage dating back to Buffalo Bill's era when the legendary cowboy held try-outs for his Wild West Show in Cody. The summer's rodeo action culminates June 30-July 4 with the 98th Annual Cody Stampede—a PRCA-sanctioned rodeo featuring 800 cowboys and cowgirls vying for nearly half a million dollars in prize money.
2. COS Rodeo Series – Wednesdays, June – August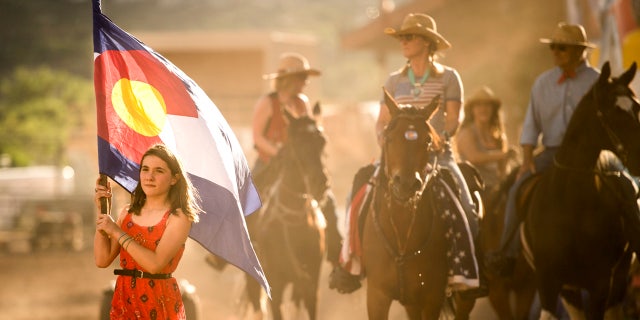 By simply signing your name you can go from spectator to competitor at the Colorado Springs Summer Rodeo Series running on select Wednesdays this summer. Sign up for everything from mutton' bustin' (riding and racing sheep) to steer riding, team sortin' and calf and ram scrambling. For an entire hour, the arena floor is open to the public for pre-event activities. Starting at 6 p.m., the professionals take over and show the crowd how it's really done. After all, they're the only ones allowed to ride the buckin' broncs and bulls.
3. Reno Rodeo – June 15 – 24 Reno, Nev.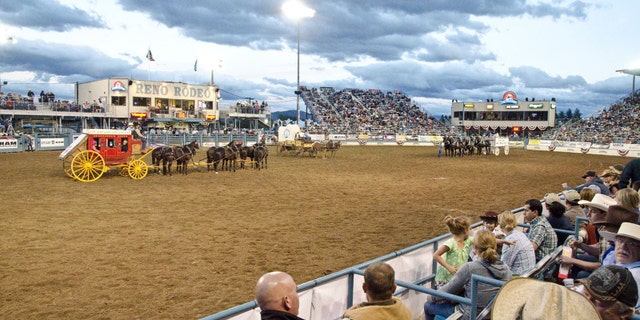 Now in its 98th year, the Reno Rodeo has treated multiple generations to 10 days and nights of all things rodeo. With more than 750 professional cowboys and cowgirls competing for more than $3 million in prize money, its earned its nickname, the "Wildest Richest Rodeo in the West." It's signature event is the cattle drive where anyone can sign up to help move a herd of cattle 65 miles (averaging 12 miles/day) across rural Nevada. No contemporary clothing is allowed, and cowboy hats are mandatory.
4. Cowtown Rodeo – Saturdays through September 30, Pilesgrove, N.J.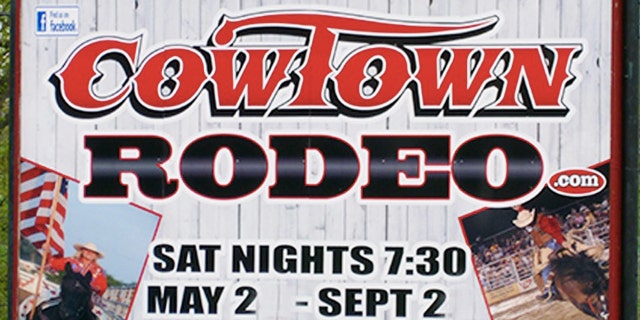 New Jersey is probably the last place you'd expect to see a rodeo, let alone the oldest weekly running rodeo in the country. But Cowtown Rodeo, which bills itself as "The Best Show on Dirt," takes place every summer Saturday night in Pilesgrove, about an hour south of Philadelphia. It's family-owned and operated by a fourth-generation cowboy whose grandfather founded it back in 1929. The only time the rodeo hasn't entertained crowds was when it was put on hold for a few years during and after WWII.
5. Pendleton Round-Up – September 13 – 16, Pendleton, Ore.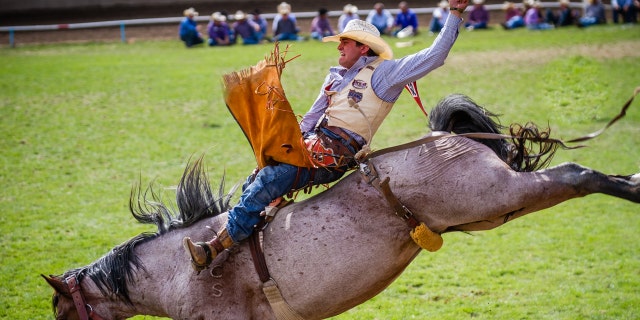 Oregon's annual Pendleton Round-Up is such a big deal it has a portfolio of whiskies named after it. Look closely at the Pendleton Whisky 1910 bottle, you'll see a horse and saddle design paying homage to the first year of this famous rodeo, considered one of the biggest in the world. Pendleton's population grows from 17,000 to nearly 70,000 during the rodeo. It's been voted PRCA's outdoor rodeo of the year four times, most recently in 2016. Unlike other rodeos, the Pendleton Round-Up has a grass arena and there is no advertising to maintain the traditional look of a Western rodeo.
6. California Rodeo Salinas – July 20-23, Salinas, Calif.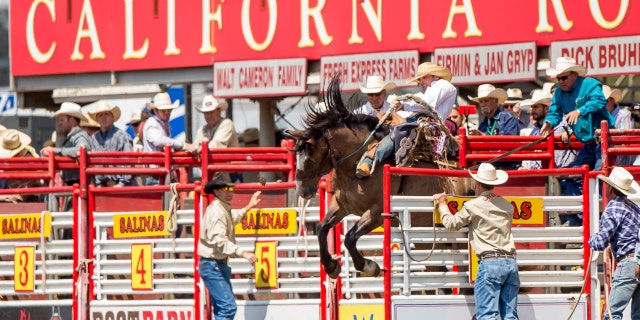 You'll have to learn how to re-pronounce rodeo if you attend this 107-year-old "ro-day-o." California's largest rodeo honors its vaquero heritage by pronouncing rodeo the Spanish way. Anyone who is anyone in the rodeo world has one of this rodeo's highly coveted trophy belt buckles. And anyone who wants to be respected in the industry, is after one. "Of all the rodeos, this is where the cream rises to the top," says Leo Camarillo, World Champion Team Roper and ProRodeo Hall of Famer.
7. Westgate Rodeo – Saturdays Year-round, River Ranch, Fla.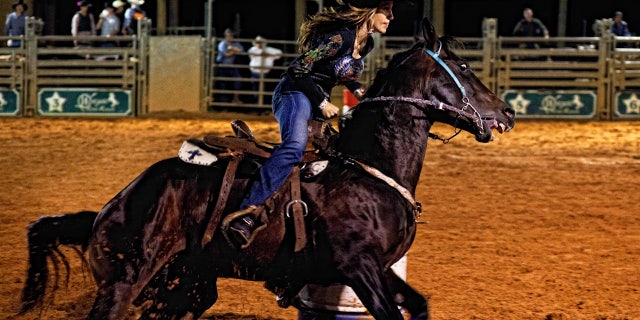 Most people don't know that Florida, not the Western states, was home to America's first cowboys, or "crackers" as they called themselves. In fact, about an hour south of Walt Disney World is Westgate River Ranch Resort & Rodeo, the longest-running Saturday Night Championship Rodeo in the country. Guests at the ranch, the largest dude ranch east of the Mississippi, are treated to barrel racing, trick riding and bull riding events. There's even a mechanical bull on site so amateurs can see what it takes to survive a few seconds on the back of a bucking beast.
8. Attica Rodeo – August 3-6, Attica, N.Y.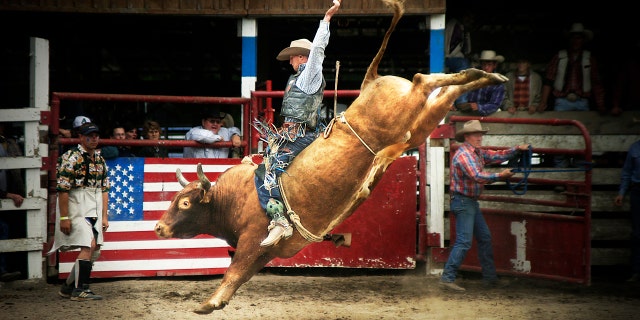 Wyoming may be the Cowboy State, but Wyoming County, New York has cowboys too. For the past 60 years, this small-town community just east of Buffalo has hosted the Attica Rodeo—voted America's No. 1 rodeo by the cowboys and cowgirls of the American Professional Rodeo Association. This four-day rodeo isn't the fanciest or flashiest on the circuit, but the athletes and rodeo clowns make it fun. When it first started there were no bleachers so spectators watched from the hoods of their cars. Second row seating was their car roofs. Admission has since gone up from $.90 to $18 per adult and with it, more infrastructure has been added.