Airlines' dirtiest secrets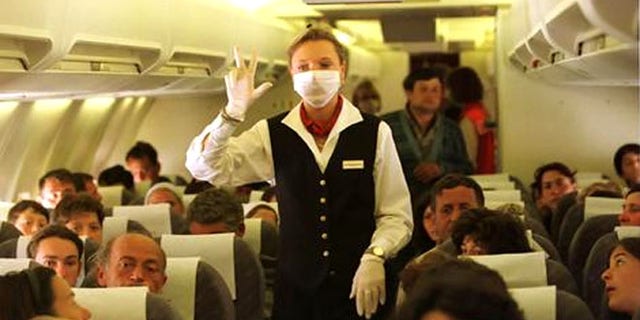 We know the questions that pop into your head when you fly: Is the cabin air full of germs? Is the water safe to drink? How are pets treated in the hold? There's a LOT of misinformation out there, and we're cutting through the clutter to deliver the good, the bad--and the downright gross.
I recently did a fun segment on morning television here in New York about the airlines' dirtiest secrets. Lately there's been a LOT of idle speculation in the blogosphere about the cleanliness of airplanes, the flightworthiness of the equipment, and the abilities of the crew. Here at Budget Travel, we regularly interview pilots, flight attendants, and other travel professionals--sometimes on condition of anonymity--and we do our best to debunk the junk and deliver the truth. That said, the truth sometimes hurts. Inspired by my hosts at PIX 11 Morning News, I'm not only delivering the airlines' dirtiest secrets, but also rating them on a "scary scale" of 1 to 5.
ARE PETS STORED IN AN UNHEATED, UNPRESSURIZED HOLD?
I hate to get all Mr. Scott about this, but this legend absolutely defies the laws of physics: At 30,000 feet, that would mean temperatures below zero and not enough oxygen. The truth is, pets are kept warm and safe in the hold. However, airline travel can be harrowing for pets--the runway is so noisy during loading and unloading that the workers wear headphones. No such luck for Fido and Fluffy. Oh, and flying with a little dog in your lap--or asking repeatedly about the safety of your pet in the hold--really irritates overworked, underpaid flight attendants. If you're a pet lover (or even just a decent human being), that rates a 5 on the "scary scale." But before you consider sedating your pet--the way you might take, say, an Ambien before takeoff--get your vet's best advice for dealing with airplane travel!
AIRPLANE DRINKING WATER MUST BE SAFE, RIGHT? RIGHT??
Sorry, maybe not! Tests show that airplane water is sometimes full of bacteria that could sicken you, and this has been confirmed in tests by the Environmental Protection Agency and the Wall Street Journal. That goes for onboard coffee and tea as well. Water is better than it used to be thanks to airline-mandated tests, but the big tanks that hold water on a plane are a breeding ground for gunk you don't want in your cup. The EPA even warns people with at-risk immune systems (including children and adults over 50) to avoid airplane water. Buy a bottle! "Scary scale"? 5!
DO AIRPLANES JETTISON THEIR TOILET WASTE INTO THE AIR?
Who started this weird myth, a fourth grade boy? No, airplanes do NOT jettison toilet contents in midair! Ever, ever, ever. Well... at least not intentionally. A California man once had a chunk of frozen airplane waste (which, by the way, was blue because of the chemical with which airplane waste is treated) bust through his sailboat. On a "scary scale" of 1 to 5, I've got to give the sailboat guy a 5!
THE CABIN AIR IS MAKING ME SICK, RIGHT?
Wrong! Airplane cabin air is filtered and often tests cleaner than hospital air. However, just about everything else onboard should be considered a mile-high petri dish. In fact, your tray table may have been used to change a baby. Yeah, that's right. E coli bacteria are regularly found on airplane tray tables. What can you do about that? Travel with sanitizing wipes to clean off surfaces you or your loved ones may touch during the flight, and to clean your hands. On a "scary scale," the cabin air gets a 0 and the tray table gets, uh, number 2? (Sorry!)
THOSE PILLOWS, BLANKETS, AND HEADPHONES ARE CLEANED OR CHANGED AFTER EVERY FLIGHT, RIGHT?
Cue Aerosmith and dream on. Flight crews are busy, budgets are tight, and you've probably witnessed the onboard scramble that occurs between flights. If your blanket is neatly folded and your headphones are in a plastic bag, congrats! That's about the best you can hope for these days. On our "scary scale," I give that a 3 or 4.
IS IT TRUE THAT OXYGEN MASKS HAVE ONLY A FEW MINUTES OF AIR IN THEM?
Yes. But it's not as bad as it sounds. Airplanes are pressurized mostly because the air at 30,000 feet does not hold enough oxygen. In the very rare event of depressurization, the oxygen masks descend and, though it may be frightening, passengers use them for a few minutes while the pilot quickly gets the plane down to around 10,000 feet, where oxygen levels are comparable to a mountain summit. On our "scary scale," this makes me feel a little safer and I give it a 1. Though if you've ever been on a plane that descended from 30,000 to 10,000 feet in a matter of minutes, there's not a theme park ride in the world that will ever scare you again.