Airline blames passengers after emergency exit door falls off plane during landing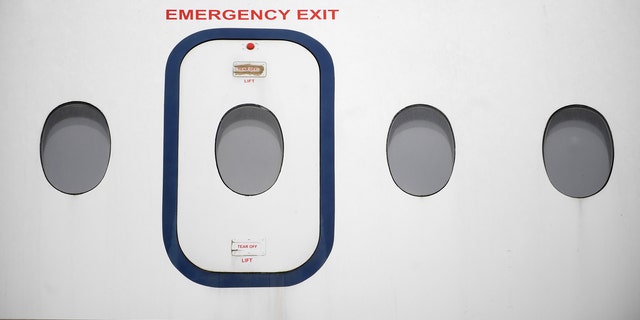 Passengers onboard a Dana Air flight traveling between Lagos and Nigeria's capital, Abuja, last Wednesday were in for a frightening surprise as one of the plane's exit doors came falling off just as the aircraft landed.
Igah Dagogo, a passenger flying onboard the aircraft, told CNN the door hadn't been properly latched on before the flight took off, adding that he was sitting about a foot away from the door and could see its handle popping out during the flight.
Several passengers posted accounts of the experience on social media, stating that the door had been "unstable" throughout the flight and came unhinged as the plane taxied the runway.
The airline then responded to the incident, blaming a passenger for the occurrence.
"We wish to state categorically that this could never have happened without a conscious effort by a passenger to open it," airline representatives said in a statement. "By design, the emergency exit door of our aircraft are plug-type backed by pressure, which ordinarily cannot fall off without tampering or conscious effort to open by a crew member or passenger."
Airline representatives also said a team of engineers from the Nigerian Civil Aviation Authority inspected the door and found no issue or safety threats.
Dapo Sanwo, another passenger on the flight, told the BBC that crew members tried to state that a passenger pulled the door's hatch during the flight, asking that passengers stop taking videos or photos of the scene.
More From Travel + Leisure
Sanwo added that everyone on the flight denied tampering with the door, and that passengers heard a "poof-like explosion" when they landed.
While passengers have tried to open exit doors mid-flight, actually achieving the feat is a lot harder than it might sound.
At cruising altitude, the interior of an aircraft has higher pressure than the air that surrounds it outside, with about eight pounds of pressure pushing against each square inch of the plane's interior. This means that to be able to open a door, a passenger would need to have the strength to push through thousands of pounds of pressure.
In addition, plug doors are made to fit tightly into the frame they're surrounded by, with this difference in air pressure helping to seal them in.