Airbus has a patent to make cabins like shipping containers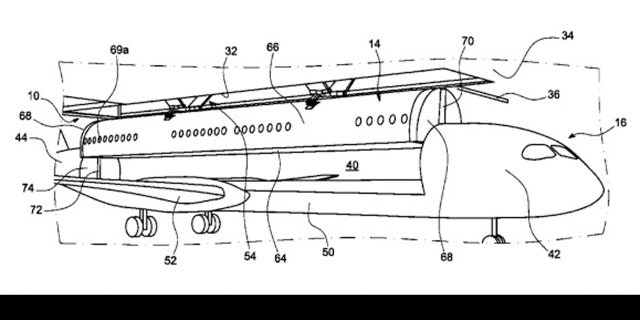 NEWYou can now listen to Fox News articles!
Airbus has been coming up with a lot of ideas lately to make air travel more efficient. First there was the bicycle-like seat that has passengers perched on their chairs. And then there was the mezzanine-style seating that stacks fliers on top of each other.
But as Wired reports, this latest idea takes on challenge of faster boarding that centers on "a removable cabin module" that turns airplane cabins into shipping containers.
The Airbus patent, filed in February 2013 and approved by the United States Patent and Trademark Office Tuesday, aims to reduce a plane's turn-time (or time on the ground) with a cabin "wherein the first and second end walls, the floor and the upper aircraft fuselage portion form a cabin for transport of passengers, luggage, freight or combinations thereof."
So, it's like a detachable cabin where passengers can be loaded ahead of time at a gate and then attached to a plane when it arrives. When you land again, the fully loaded cabin is removed (to be emptied at a different location) and replaced by another pre-loaded cabin, Wired reports.
Airbus competitor Boeing predicts that if you can cut down an airplane's turn-time by 10 minutes, you can improve its utilization level by 8.1 percent--so you can see why it's a compelling idea.
Airbus' patent also includes drawings of the docking stations and transport equipment to shuttle the cabin containers about. But outfitting airports around the country—and world- would be a massive infrastructure problem. And as Wired notes, there the safety aspects ensuring proper attachment of the pod that could wind up costing valuable time.
But if the Airbus seats allowing for extra leg room and greater pitch, passengers may not have a problem being treated like consumer electronics being loaded on a cargo ship.