Air France passenger takes off pants, shoes on 10-hour flight, cabin crew allegedly 'unconcerned'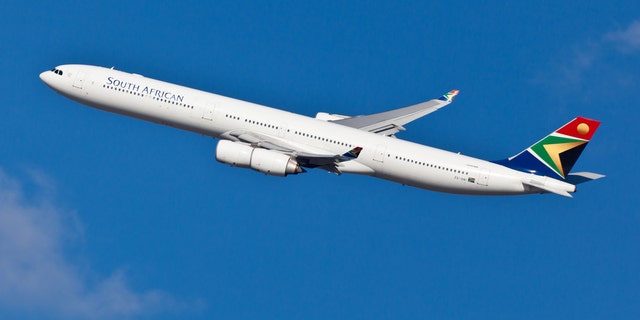 One passenger took the idea of making yourself comfortable to new heights.
Lizzie Thompson was flying from Paris, France, to Los Angeles on Air France when she said a man boarded the flight and began to disrobe.
PASSENGERS AT BELFAST AIRPORT SEEN USING POLES, WIRE BASKETS AS WEAPONS IN VIOLENT BRAWL
According to Thompson, the unidentified passenger took a seat across from her in a row with more leg space and took off his pants, shoes and socks before sitting down for the 10-and-a-half-hour flight.
Thompson's "long flight" did not end there — shortly after taking her seat, she said another man with a ukulele boarded and was ushered over by the man in boxers to "make some music."
After the man stripped, Thompson claimed she alerted a flight attendant about the man's choice of travel apparel, but was "shrugged" off.
CLICK HERE TO GET THE FOX NEWS APP
The bizarre travel experience continued with the man stealing "4 mini bottles of wine from the cart" two hours into the flight. And then eventually getting cold enough on the flight to put on his winter jacket — though the pants seemingly remained off for the entirety of the flight.
Those on social media were as appalled by the passenger's behavior.
FOLLOW US ON FACEBOOK FOR MORE FOX LIFESTYLE NEWS
Though the trip does not seem to be one Thompson would like the repeat, the woman did comment that the rest of the passengers seemed to come together over the man's wardrobe.
Air France did not immediately respond to Fox News' request for comment.