9 free things you can do on a Carnival cruise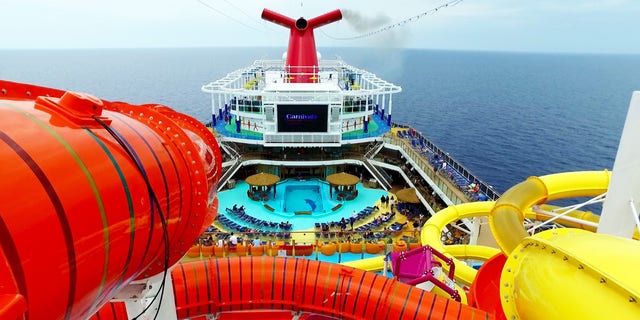 Talk to any cruiser, and they'll tell you their biggest pet peeve is nickel-and-diming. (Wait, we have to pay extra for a shuttle into town? And yoga?) Fortunately, there are tons of things on every cruise line that you don't have to pay extra for, including on budget-friendly Carnival Cruise Line's ships. So, even when the fare drops — and sometimes they go way down — these treats will always be included in the rate.
1. Miniature Golf
For a family of four, this can cost as much as $40 on land. Here, it's included in your rate, and you can play every day if you like. Although you won't find water hazards (unless the whole ocean counts as a water hazard!), you will find green fairways lined with windmills and cacti. All ships have these courses, but the designs vary, from bright and colorful to pirate-themed with rope and even treasure chests.
2. Live Band Karaoke
Walk down the hall at night and you may hear music pouring out of a lounge and wonder … the cruise line is paying those people to sing professionally? Chances are, the answer is no; you're just walking past the Live Band Karaoke stage. Here, amateurs of all levels can belt out their favorite tunes with the backing of a band. For those who love to sing, it doesn't get much better than that. After this experience, how could anyone go back to karaoke in a private room?
3. Burgers
We've talked a lot about how decadent the cheeseburgers are at Guy's Burger Joint, located poolside on just about every Carnival ship. But we don't say enough about how they're free. The buns are baked fresh on board, and the meat is ground daily and just as greasy as you'd want it to be. The eatery also has specialty burgers, topped with bacon or chili, and a fixings bar with everything from condiments to bacon, lettuce, tomatoes, pickles, onions, and even sautéed mushrooms and onions. There may be no better place at sea to blow your calories, but — no matter what you choose — you'll never have to take out your wallet here.
4. SkyRide
We can't deny it; this new feature on Carnival Vista is, um, interesting. You harness up and are strapped into a tricycle-like ride and sent off to pedal yourself around the top deck, suspended by a rope. The bad news: You have to set aside your ability to be easily embarrassed, since this is an open course that cruises right past, say, the water park and the volleyball courts. The good news: The views from all the way up there are pretty amazing — and possibly the best on the ship, so pick your port carefully.
5. Hasbro Game Show
This game show-style activity is audience participation at its finest, so you might get pulled up on stage to play Sorry!, Yahtzee, Connect 4, or Operation with your friends and family, in front of a room full of cheering cruisers. The games are enlarged to the scale of the stage, so picture a 9-foot-tall Connect 4 wall towering above your head, and you get the idea. This isn't available on every ship yet, so if it's important to you, be sure to check whether your ship has it before you book.
6. Made-to-Order Tacos
Sure, the burgers are good, but if you like Mexican food, the tacos at BlueIguana Cantina may just be your favorite fish on board. Order a plate of pork, beef, chicken, or fried fish tacos and give the staff a minute to make your shells while you wait. Then take your tray to the salsa bar and deck out your creation however you like — from authentic Riviera Maya-style, with pickled red onions, lime, and sliced radishes, to Baja-style, with chipotle mayo and shredded cabbage.
More from Sherman's Cruise
7 Rip-Offs to Avoid on Cruise Ships
When is the best time to book a cruise?
The Ultimate Cruise Packing List
The Riskiest Places to Cruise Off-Season
The 13 Coolest Things You Can Do on a Cruise
7. Dive-In Movies
After dinner in the main dining room (free) or at the steakhouse (our favorite, but not free), head up on deck for movies at sea. This classic cruise experience is a great way to take advantage of the summery warm nights in the Caribbean.
8. Barbecue
Carnival has long had barbecue on board at lunchtime on some ships, and now Carnival Magic and Carnival Vista also have Guy's Pig & Anchor Bar-B-Que. Say what you will about TV personality Guy Fieri, but he's actually a champion pit master in the National Barbecue Hall of Fame. Look for pulled pork, smoked sausage, and barbecue chicken — all smoked in a proper smoker on deck — plus all the sides, including potato salad, collard greens, and mac and cheese.
9. Punchliner Comedy Club
Stand-up comedy shows take place in a proper lounge, with comfy chairs and tables, and drink service, too. Carnival ships host four comedy acts every night — two all-ages performances and two late-night shows for the grown-ups. Just trust us: Some of the comedians get rather blue with their acts, so choose your set wisely. We've sat at a table of grannies as the comedy gets crasser — and funnier — and we can assure you we blushed harder than they did.