7 cruise lines with amazing cocktail hours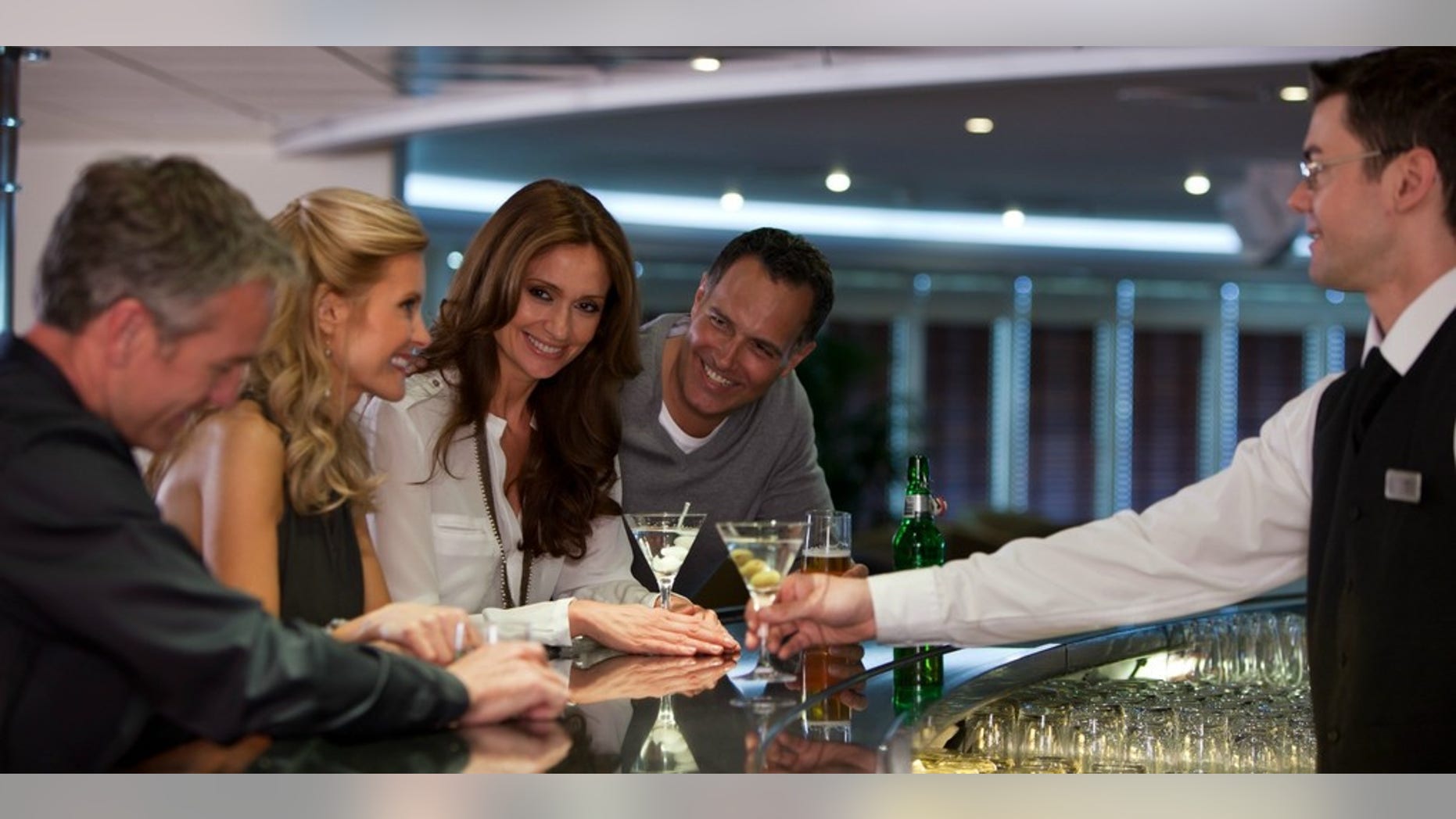 It's five o'clock somewhere, as the saying goes, and nowhere is that more true than when you're at sea in international waters.
A great cocktail hour is one of the pleasures of being on vacation, and nothing says it's time to relax like being treated to a complimentary glass of bubbly-- or two.
While most cruise lines host a sail away party with a glass of sparkling wine, if you really want a cocktail hour that delivers, you have to know which deck to hit. Here are a few cruise lines that have truly special cocktail hours at sea, where you can unwind in an intimate setting, chat with new friends, and sometimes even meet the captain.
1. Regent Seven Seas Cruises
This all-inclusive luxury line also offers something pretty unique: a social hour called the Block Party, where passengers come out into the hallways with an empty wine glass and servers fill them with Champagne as the ship's captain, general manager, and cruise director walk down the halls for a meet and greet. It's a fun way to break the ice and sets the tone for an intimate sailing. And if you want something more private, you can always arrange your own cocktail hour any time of day — all alcoholic drinks are complimentary, all the time.
2. Seabourn Cruise Line
This line's three all-suite ships host a lavish Caviar Sail Away party, where you'll nosh on caviar canapés and complimentary Champagne to kick off your cruise. Throughout the cruise, they serve small bites and drinks by the pool and Club Terrace lounge during the day, as well as canapés at cocktail hour at The Club, home to live music and a small casino. In good weather, you can look forward to a Caviar in the Surf party, which takes place once per cruise in the Caribbean. While you relax in the water, servers wade around to you with Champagne and caviar, while on shore, there are drinks, music, and a barbecue waiting.
3. Silversea Cruises
With luxe touches like butlers in every suite and free-flowing alcohol, this intimate line has not one, but two can't-miss cocktail hours: a welcome cocktail hour on the second night of the cruise and the farewell cocktail hour on the last. Both are hosted by the captain and usually take place in the theater, where you'll be able to take advantage of the complimentary drinks (including 50 wines and Champagnes) as you nosh on canapés of smoked salmon and caviar and listen to live music. You'll raise a glass as the captain gives a toast, and then mingle with the senior staff. Or, you can plan the most intimate of cocktail hours — one hosted by you. If you're in a Royal, Grand, or Owner's Suite, the line's white-gloved butlers will organize an in-suite cocktail party at your command.
4. Holland America Line
Happy hour is a little extra happy on this cruise line, where, no matter your loyalty point status, you can head to bars and lounges, including the Crow's Nest Lounge and Ocean Bar, from 4 to 5 pm. Order any full-price drink on the menu and your second drink is only $2 — and we mean any drink, even that $104 glass of Louis XIII Cognac. Most of the drinks aren't that expensive of course, but this deal is pretty unheard of for a major cruise line. And, if you want to order a third drink during happy hour, you'll pay full price again (but if you hurry, you'll get the fourth for $2 ... and probably a case of double vision).
More from Sherman's Cruise
7 Rip-Offs to Avoid on Cruise Ships
When is the best time to book a cruise?
The Ultimate Cruise Packing List
The Riskiest Places to Cruise Off-Season
The 13 Coolest Things You Can Do on a Cruise
5. Crystal Cruises
The piano bars — Crystal Cove and Avenue Saloon — are the place to be on Crystal ships every night before dinner, where a selection of hot and cold hors d'oeuvres are served while a live jazz band fills the lounges with music.
6. Celebrity Cruises
This mainstream cruise line's most loyal cruisers are rewarded with perks, and if you are Elite or Elite Plus status (you need to earn 300-749 club points to reach this level), you'll be invited to an exclusive Captain's Club Coffee Break, as well as a cocktail hour in the panoramic Sky Observation Lounge, where you can mingle with other Elite guests before dinner.
7. Lindblad Expeditions
Known for its adventure-filled itineraries in remote locales such as the Galápagos and Alaska, this line of small expedition ships gives you the chance to learn from onboard scientists, experts, and even photographers from National Geographic during its cocktail hour. At the end of each day, passengers and naturalists gather in the lounge to discuss the day's activities and snack on pre-dinner hors d'oeuvres in a well-beloved tradition called the Recap.