6 Unusual Places Where You Can Eat and Sleep With the Fishes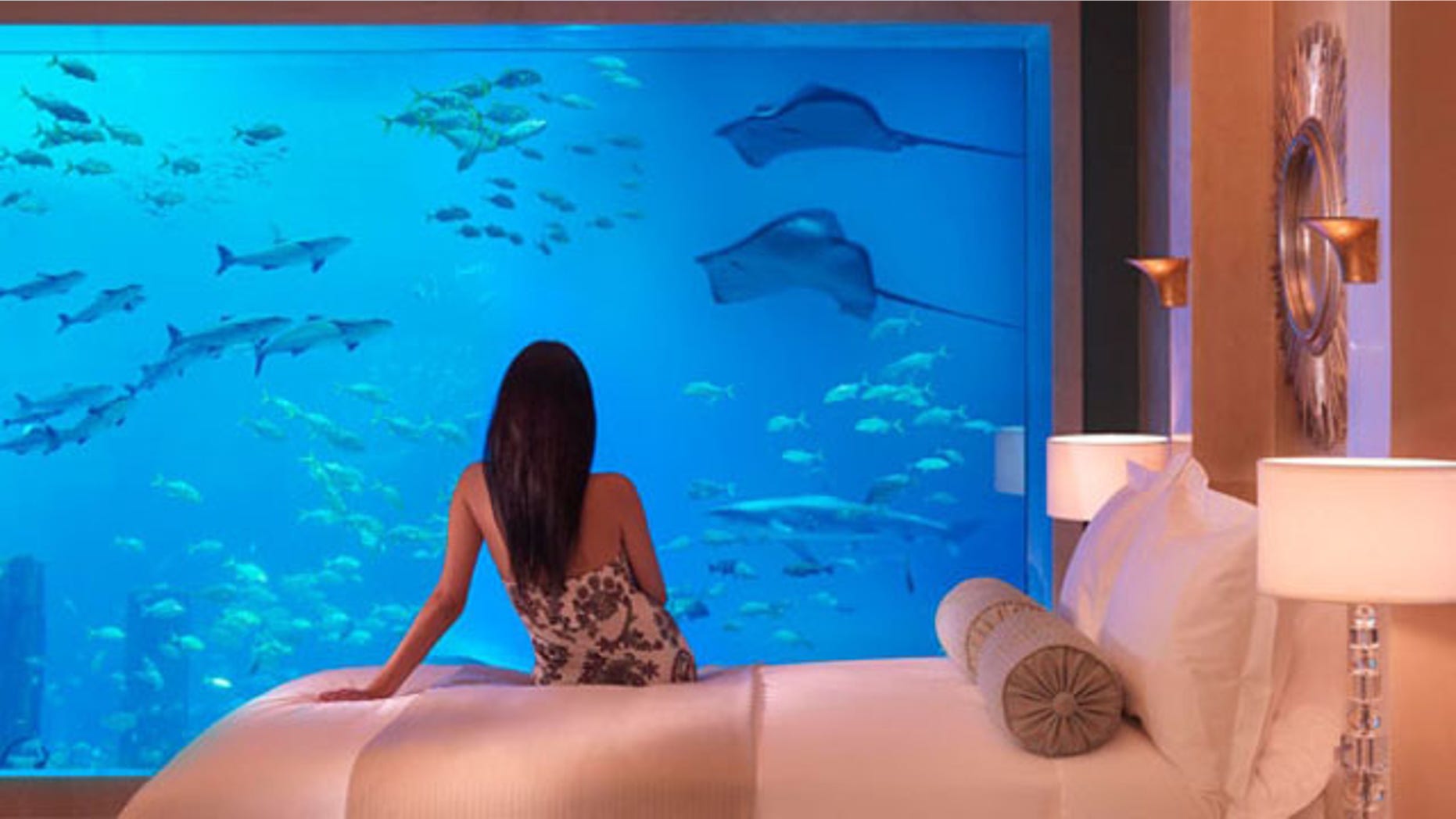 Ordinarily, the phrase "sleeping with fishes" conjures up a one-way ticket for a less-than desirable trip that includes complimentary concrete shoes.
But there are some exclusive hotels and restaurants that offer visitors a once-in-a-lifetime experience to sleep, and even eat with the fishes, with the added bonuses of not only coming back alive, but never even getting wet.
The windows of these hotels and restaurants and are outfitted with thick plexiglass, so you can watch the fish, rays and occasional shark or turtle float serenely past your dinner plate or bed.
Catching 40 winks under the sea or dining with a star (fish--of course) is travel bucket list experience, and an expensive one, at that.
Here's a look at some of the most unusual places.
Atlantis The Palm: Dubai, United Arab Emirates
Located on the man-made Palm Jumeirah island the Neptune and Poseidon Suites at the Atlantis Palm Hotel are triplexes, with the bathroom and bedroom down a sweeping staircase to the sea floor.  Both have floor-to-ceiling window walls which look directly into a lagoon filled with sea life, so it feels as though you are living inside an aquarium.  The Piscean theme is further enhanced with a jetted tub and a separate shower with multiple showerheads, and artwork duplicating the corals outside.  The suites are staffed by your own private 24-hour butler, who will draw your bath and clean and press your clothes, but not spear your dinner from the balcony.  Cost is around $8,300 per night, depending on the exchange rate.  Atlantis The Palm is fashioned to look like a palm tree branching out into the sea, 10 minutes by boat from downtown Dubai.
Jules' Undersea Lodge: Key Largo, Fla.
The accommodations at this hotel, in – or, rather under --Key Largo, are more like an upscale submarine, entirely fitting when you find out this hotel was an underwater research laboratory in its previous life.  Billed as the only underwater hotel in the U.S., guests scuba dive to their suites, rooms, about 30 feet under the surface, entering via a special 'wet room'.  Both the sleeping and living areas have large porthole windows to watch the fin and flipper traffic.  Décor is ship-shape – compact and efficient.  There's also another two-room suite for underwater weddings, performed by a scuba certified local official.  If you want your wedding or sleep-over catered, the chef does double duty, scuba diving down with the fixings, then serving.   An underwater wedding costs $1,750; overnights are $500-$600 per person. There's also a three-hour 'quickie' adventure visit, for the experience without morning coffee, at $125 per person.
For more Florida Keys destinations check out FoxNews.com's travel guide >>
Utter Inn: Lake Mälaren, Sweden
What looks like a large floating red outhouse on Lake Malaren in Sweden also has a single, underwater room barely big enough for a double bed and tiny kitchen area.  This is a summer-only getaway, since the solar panels on the roof aren't enough to keep you warm when the water is near freezing, or provide much electricity for reading, so bring your own flashlight, or sit on the small outdoor deck.  The owner also provides a canoe for checking out the neighborhood, or paddling to land for dinner.  Despite it's minimalist amenities, it books by the week only, for $1,750.
Ithaa Restaurant: Rangalifinolhu, Maldives
This underwater restaurant at The Conrad Maldives Rangali Resort is unique for more than its aquarium setting. With enough advance notice, and no lunch or dinner reservations that day by other guests, the resort will replace tables and chairs with bed and dresser for an overnight.  So, theoretically, you can dine here on gourmet fare the night before or after you sleep here, surrounded on three sides both times by colorful aquatic life.  The rate is $10,700 per night, not including room service.
Red Sea Star Underwater Restaurant, Bar and Observatory: Eilat, Israel
The name says it all.  This is a hybrid, for dining, late night partying fifteen feet below the surface, or just looking at the fish without trying to figure out how to take photos out of one of the 62 large windows while holding a drink or a knife and fork.  Located in Israel's southernmost city at the northern tip of the Red Sea, the restaurant has starfish lighting fixtures and a sand floor under a layer of clear epoxy enhance the watery experience, which can include the occasional scuba diver swimming by, following the fish. Lighting of the sea floor after dark was designed by marine biologists so it wouldn't disturb the fish. Children are welcome before 9 p.m. Fish is a main menu item in Israel, but it's still a bit disconcerting to find it on the menu here.
Al Mahara Restaurant (Oyster Shell): Dubai, United Arab Emirates
This restaurant inside the seven-star Burj Al Arab Resort, Dubai, isn't underwater, it just feels that way.  The entrance is via an elevator decked out like a submarine, with the three-minute trip turned into a virtual voyage, marked by sonar-like bongs familiar to anybody who has watched a submarine movie like"Hunt for Red October".  The doors open onto a dramatic dark archway which looks like it leads to the sea.  It's actually a gigantic aquarium nearly one-story tall that is the dominant décor in the restaurant.  Naturally, the most coveted dining location is alongside the plexiglass, and – yes – fish are on the menu, too.  Go for lunch.  Besides getting you out of the midday desert sun, a three-course lunch is just $100, plus wine and tips, less than half the price of dinner.