50 live crocodiles seized at Heathrow Airport
Fives boxes of live year-old crocodiles were seized at Heathrow Airport last week because of unfair transportation conditions.
Fifty young saltwater reptiles arrived in London on a flight from Malaysia, where their cramped quarters were discovered to have violated transportation regulations.
TSA HOLDS MAN AFTER FINDING COUGAR CARCASS IN LUGGAGE
Ten crocodiles were loaded into each of the five boxes, the BBC reported. However, the boxes were only supposed to hold four of the foot-long crocodiles.
The overcrowded boxes caused the crocodiles to fight during the approximately 14-hour flight. One of the reptiles died because of the conditions.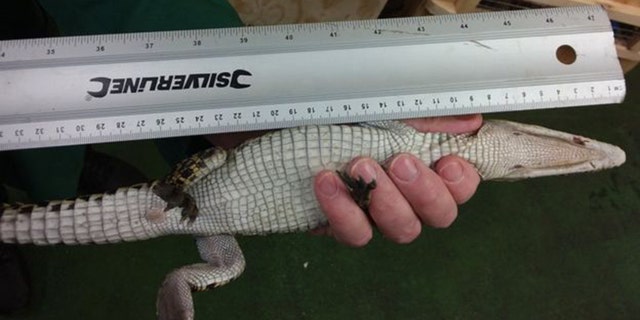 A Border Force spokesman said "little attention" had been paid to the crocodiles' welfare, BBC reported.
The animals were heading to a farm in Cambridgeshire, where they were to be bred for meat, the news site reported, but were confiscated by officials from the Conventions on International Trade in Endangered Species (CITES).
FOLLOW US ON FACEBOOK FOR MORE FOX LIFESTYLE NEWS
Grant Miller, head of the national Border Force CITES team at Heathrow, said to BBC, "It is just not acceptable for reptiles to be transported in this way."
"We will seize anything that contravenes CITES regulations, so this should serve as a warning to those thinking about transporting wildlife in such conditions," he added.
The 49 crocodiles will be re-homed.