YouTube launches 2012 elections hub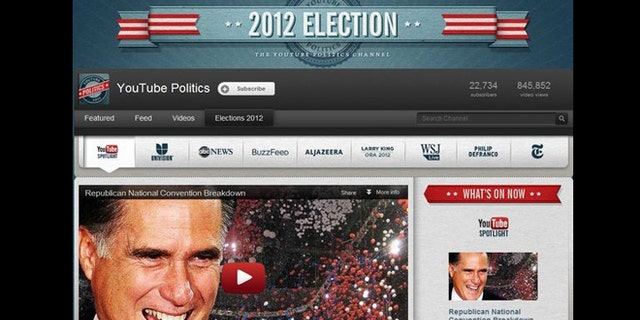 Google launched its YouTube Elections Hub on Tuesday, which promises to be a one-stop spot for key political moments.
Of course, it will include the serious newsy streams such as live speeches from the floor of the upcoming Republican (Aug. 27-30) and Democratic (Sept. 4-6) National Conventions, live streams of the official Presidential and Vice Presidential debates, as well as Google+ Hangouts featuring Washington insiders.
The hub also presents eight channels representing a broad spectrum of perspectives, from YouTube celebrity political comedian Philip DeFranco and editors from social news website Buzzfeed to traditional news sources, including ABC News, The Wall Street Journal and Al Jazeera English. Each source has its own tab across the top of the page.
But the hub lets you keep up with the lighter side of this year's elections, as well. YouTube staffers pull in the best parody videos and funny clips, which are posted under the "Video" tab. While one Iowan's reaction to a kiss from Obama may not make your nightly news, it is posted on the Election Hub.
To connect with YouTube Politics Channel, click the "subscribe" button on the page. When you're logged into YouTube, you'll see updates on your channel page when new videos are posted. You can also subscribe to email updates. Already, the new politics hub has about 22,000 subscribers.
Copyright 2012 TechNewsDaily, a TechMediaNetwork company. All rights reserved. This material may not be published, broadcast, rewritten or redistributed.